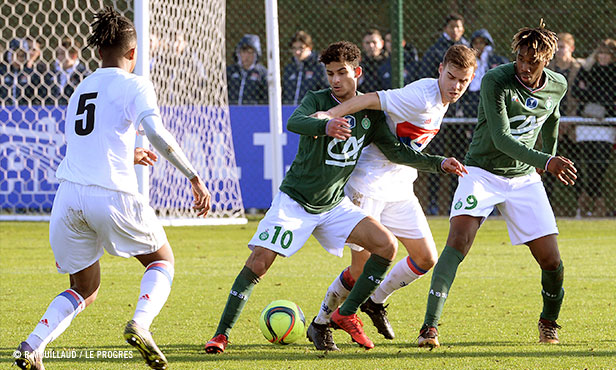 L'OL s'est incliné face à l'ASSE en 1/64 de finale de la Coupe Gambardella, ce samedi, au Groupama OL Training Center (2-3).
In front of club owner Jean-Michel Aulas, first team coach Bruno Genesio, members of the women's team and the Lyon reserve squad, among other supporters, OL's U19 team made their Coupe Gambardella debut Saturday against Saint-Etienne at the OL Training Center.

This youth cup version of the OL-ASSE derbi was dominated early on by the home side, which boasted Geubbels and Caqueret among the standouts in a strong starting lineup. Within the first ten minutes, in fact, Lyon already had their first chance to open the score with a header from Rampont that was saved by Cremillieux. Moments later (12'), Geubbels couldn't convert in the 1v1 against the opposing keeper before shooting just wide of goal in the latter stages of the first half (41'). Three wasted chances that OL would eventually come to regret, as Djouahra put the visitors ahead shortly before halftime (45', 0-1).

Lyon would be dealt an even bigger blow right after the break when the referee showed Devarrewaere his second yellow card of the match (47') and left the home side down to 10 men. A controversial decision that all but settled the match and affected the atmosphere in the stands. On the pitch, OL clearly felt the absence of their midfielder and conceded two more goals, by Abi (53', 0-2) and Moueffek (63', 0-3). Geubbels took advantage of a goalkeeping mistake to cut into the lead (69', 1-3) and Ndicka's stoppage-time penalty (90+3', 2-3) added some last-minute drama, but it was too little, too late.

A disappointing result for an OL side that deserved better but had its fate sealed with the sending off of Devarrewaere. And a tough start to the year for Stéphane Roche and Gilles Rousset.

Reactions

Stéphane Roche (coach) : « We lacked spontaneity and inspiration early in the game, before conceding a cruel goal. The situation then became unfavorable because of the officiating. This decision changed the balance of power, and the players took a long time to digest it - and did so with frustration and too much emotion. »
Thomas Oualembo (captain) : « They scored on the first chance they had and then the red card changed the game. We had the desire, we gave our all and battled. We wanted to go further and win the Coupe Gambardella. It's a shame. »
...

. TEAMSHEET .

Au Groupama OL Training Center de Décines

Coupe Gambardella (Round of 128) : OL - ASSE 2-3 (0-1)

Referee: Hugo Boissiere. Attendance: around 3,000.

Goals: Geubbels (69') and Ndicka (90+3') for OL. Djouahra (45'), Abi (53') and Moueffek (63') for ASSE.


Bookings: Devarrewaere (29' and 47'), Oualembo (51') and Rampont (76') for OL. Doukansy (17'), Mezaber (23') and Abi (89') for ASSE.

Red card : Devarrewaere (47') for OL.
OL : Garcia – Perrier (Vieira, 83'), P. Kalulu, Rampont, Bard – Devarrewaere, Caqueret – Bahlouli (Lepaul, 78'), Rafia (Ndicka, 67'), Geubbels - Oualembo (cap.). Coaches : Stéphane Roche and Gilles Rousset.

ASSE : Cremillieux - Halaimia, Fofana (cap.), Saliba, Mezaber – Doukansy (Petit, 60'), Valbon – Moueffek, Benkhedim (Tshibouaboua, 85'), Djouahra (Touati, 71') - Abi. Coach : Lilian Compan.

...