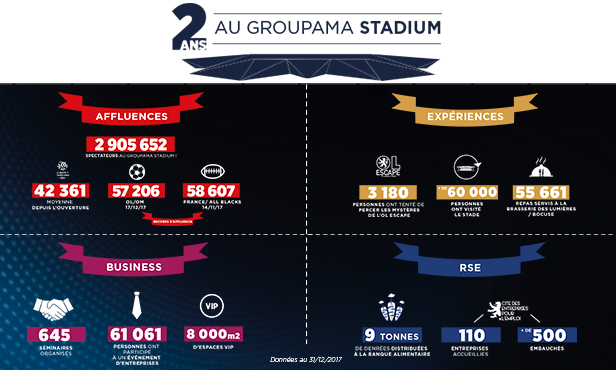 This Tuesday, January 9, 2018, Groupama Stadium is turning two years old - and we're celebrating by looking back at some of the arena's greatest moments to date.
A record year
Groupama Stadium has achieved numerous attendance milestones: a total of 58,607 spectators witnessed a France-New Zealand rugby match at the grounds, which also hosted 57,206 fans during an OL-OM match for a Ligue 1 Conforama record.

With a total of 2,905,652 spectators watching 76 events since opening its doors, Groupama Stadium has become a must-see venue in the French Stadium landscape.

Among the highlights during these two years, Groupama Stadium has hosted 14 additional events other than OL matches: six Euro 2016 matches, three international rugby matches, three concerts and two sporting events - Monster Jam and Winter Game.

Since the beginning of the current season, the stadium has also posted an average attendance of 42,813 spectators in Ligue 1 Conforama, one of the highest rankings in all of French football.

---
Plenty to do, plenty to see
Among the many activities and services that make it stand out every day, Groupama Stadium's guided tours have been rewarded with the TripAdvisor Certificate of Excellence in 2017. That same year, the stadium welcomed its 60,000th visitor - roughly the equivalent of a sold-out match at Groupama Stadium (59,186 seats). More than 3,180 people have already tested the OL Escape game and nearly 600 people have experienced the VIP treatment during game nights.

Since opening in collaboration with the Groupe Bocuse, the Brasserie des Lumièrs restaurant has a unique location overlooking the pitch and has served 55.661 diners.
More than 645 events bringing together nearly 61,000 people have been organized at Groupama Stadium, which has a 8,000 m² of space to host seminars, meetings, trade shows, showrooms, Christmas trees, etc.

---
A premiere sporting and cultural arena
Designed as a multifunctional enclosure, Groupama Stadium hosts the biggest events with a rich and varied program schedule all year round to establish itself as a top destination in France and Europe.
Since its inauguration, the stadium has hosted many prestigious matches in both national and international competitions: Euro 2016, the 2017 League Cup Final, Champions League and Europa League… More than 40 professional men's and women's teams have played at Groupama Stadium. 2018 will also be a prestigious year, as the stadium will host the Europa League final in May.

Groupama Stadium hosted the match between France and the All Blacks last November. A total of 58,607 people in the stands watched the Haka dance prior to a memorable 2017 Autumn Internationals match.
For the first time in France, the famous American motorsport event was held on June 24, 2017 in front of nearly 25,000 fans who enjoyed a spectacle like none they'd ever seen before.
In the summer of 2017, the stadium showed the full extent of its potential by hosting world-famous music stars. Coldplay and Celine Dion put on shows to remember at Groupama Stadium in front of nearly 52,000 and 42,000 people, respectively, following in the footsteps of Rihanna's memorable 2016 concert.