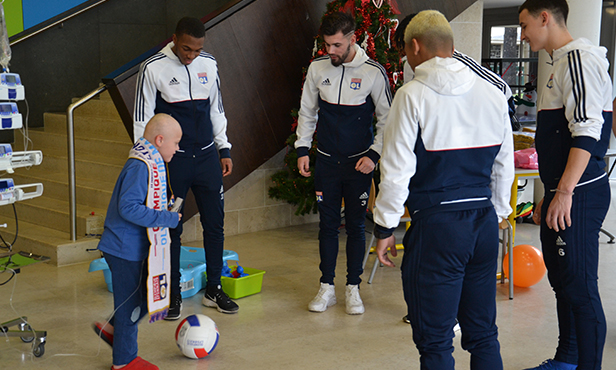 The OL Foundation started off the year on the right foot by organizing two solidarity initiatives involving OL Academy players.
On Thursday, young patients at the Centre Léon Bérard were able to learn about football from five OL Academy U19 players: Abdoulaye Ouattara, Kevin Dellinger, Esteban Lepaul, Matthis Louiserre and Theo Ndicka. In addition to getting in some actual ball work, the youngsters spent quality time with their visitors, some of them of the same age, which provided moments of comfort for the patients and their families.
The following day, another group of players - mostly from the Pro 2 squad - lent a helping hand at the Rhône Food Bank. Thimoth Cognat, Hamza Rafia, Issiar Drama, Nicolas Garcia, Pierre Nouvel, Zachary Brault Guillard, Anthony Racciopi and Maxence Caqueret did their part - moving boxes, emptying pallets, all with a smile and a volunteering spirt. In just a few hours, nearly 30 pallets were unloaded and reorganized, which was a massive help for the Food Bank!
Located in Décines, the Rhône Food Bank collected nearly 5,800 tons of food in 2017, allowing the preparation of 10 million meals for families in the Rhone area living in precarious conditions. In 2017, more than four tons of sandwiches were donated to the Bank by OL and Sodexo, following matches and major events organized at Groupama Stadium. . .
---
Get the latest OL Foundation news on Facebook and Twitter !
Also check us out on Instagram
<< Get the latest OL Foundation news >>