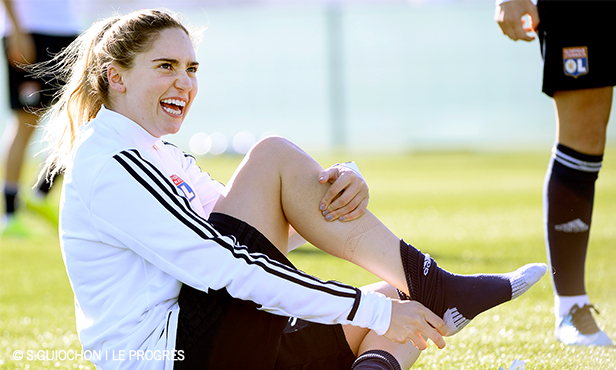 After officially signing on January 1 from Chicago Red Stars in her native United States, the American midfielder has reported for duty at the club's training camp in Spain. The perfect occasion to meet her new teammates and get properly integrated into the group. Story below.
She has yet to see Décines or the Groupama OL Training Center. Most of what Morgan Brian, recently arrived from the United States, knows about her new club comes from OL's former American players. « Alex Morgan and Megan Rapinoe told me a lot about the club. I spoke with them. They both had very good experiences here. They told me they improved as players with OL. » An official Lyon player as of Monday, January 1st, Brian barely had time to drop off her luggage in her new adopted city before traveling once again.

Next on her itinerary was a trip to southeastern Spain, site of a mini training camp for Reynald Pedros and company. The perfect opportunity for Morgan Brian to quickly immerse herself in the group and bond with her new teammates and the Lyon coaching staff. « I'm adapting well even though I don't speak French. I'm already trying to learn. I don't know any players personally, but I've played against most of them. Everybody has been very nice to me. » With introductions and other formalities taken care of, the 24-year-old midfield then got down to the business of working on regaining her physical fitness.

The former Chicago Red Stars star hasn't played an official match in several weeks. Jogging, sprints, muscle endurance and ball work… just some of the things that are on her to-do list. Since the beginning of the week, she's been following a personalized program with physical trainers… in ideal conditions for the month of January. « Everything is going very well here in Spain. It's been fun and it's fun being here. I'm happy to regain my strength and being able to work with the ball again. »

????️ The first words of @moeebrian with #teamOL ???????? pic.twitter.com/pkjeMnmd51

— OL English (@OL_English) January 3, 2018
OL's new number 15 is all smiles, already at ease but yet captivated at the same time by the quality of her new teammates, who she observes during Wednesday's training session. « I can't wait to be on the pitch and play football with them. I am very happy to be at Lyon. For me, it's the best possible scenario. »