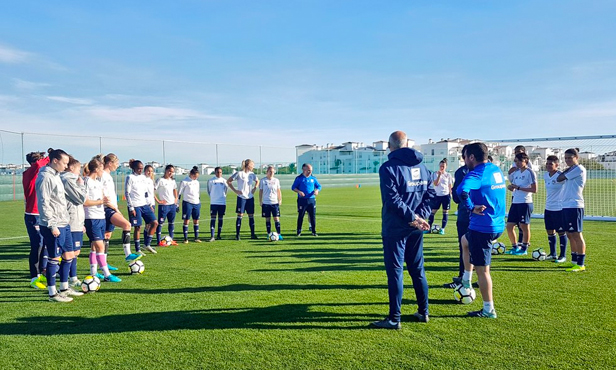 Reynald Pedros' players were back at it for another day of training at the Roldan complex in Murcia. Work, sun and good vibes were on the menu for day two of the team's Spanish camp.
The girls are working just as hard as the guys! Some 60 kilometers from where Bruno Genesios's men are training, the OL women's team is also getting down to business. After a double session the previous day, Reynald Pedros' players were back at it on Wednesday. Training began at 10 a.m. with some preventative work at the hotel gym. Then it was off to the nearby training grounds.

In the facility's superb green pitch, which contrasted with the almost desolate and arid surrounding countryside, the players got started with an intense warm-up to get the blood flowing before moving on to ball work. Good vibes were all around as Wendie Renard and her teammates were put through the paces by the coaching staff, playing in two groups, head-to-head, on one half of the pitch.

????️ The first words of @moeebrian with #teamOL ???????? pic.twitter.com/pkjeMnmd51

— OL English (@OL_English) January 3, 2018
As she did yesterday, new signing Morgan Brian continued to work on her fitness apart from the group with the club's physical trainers. Meanwhile, Jessica Houara d'Hommeaux is still in the recovery phase of her injury and rode a bike with physical trainer Anastasia Panossian. Another afternoon session was scheduled for 16:00 local time.