STAGE : LA (DOUBLE) DÉLÉGATION LYONNAISE EST ARRIVÉE DANS LA RÉGION DE MURCIE
19
Album photos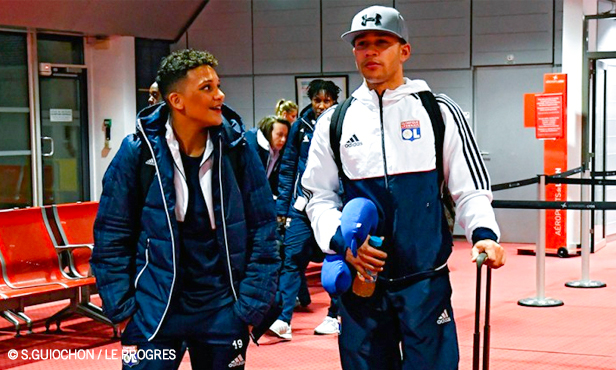 After a session at the Groupama OL Training Center, Lyon's men's and women's teams flew to the south of Spain. A three-day camp in two different locations is on the agenda.
Winter has given way to a sunny change of scenery for Lyon. Bruno Genesio's men and Reynald Pedros' ladies have left the cold and bad weather for some sun in southern Spain. Shortly after one last rainy, icy training session, the Lyon delegation headed to the Saint-Exupéry Airport to fly to the south-east of Spain for a three-day training camp.
First training in Spain! pic.twitter.com/6c2VmlNkX9

— OL English (@OL_English) January 2, 2018
Therefore, two professional teams and their respective technical staffs have landed in Murcia. An unprecedented chance for Memphis and Shanice van de Sanden, two Dutch internationals, to share a moment before takeoff, and for Eugénie Le Sommer and Camille Abily, two fellow Bretons, to enjoy a trip to the Iberian sunshine. « It's super nice to enjoy the men's plane. It's nice to travel together. »
Women & men arrived in Spain for a 3-day internship! #teamOL ???????? pic.twitter.com/FKZnKSUgj9

— OL English (@OL_English) January 1, 2018
Spain, the sun, the beach and the nearby sea... The holidays, however, will seem a distant memory for the players, who are taking part in demanding double daily sessions along with teammate Nabil Fakir. Work began shortly after landing in Murcia Monday night following a quick flight that lasted a little over an hour and a half. Both groups then separated and checked into their respective hotels, in Algorfa and Roldan, about sixty kilometers from each other. They will touch base again Thursday night in their return trip back home after three days of intense training.
...

. LYON MEN'S TRAVELING SQUAD .

Goalkeepers: Gorgelin, Grange, Lopes, Mocio.

Defenders: Diakhaby, Marçal, Marcelo, Mendy, Morel, Rafael, Tete, Yanga-Mbiwa.

Midfielders: Aouar, Diop, Ferri, Grenier, Ndombele, Owusu, Tousart.

Forwards: Cornet, Fekir, Gouiri, Geubbels, Maolida, Mariano, Memphis, Traoré.


...
...

. LYON WOMEN'S TRAVELING SQUAD .

Goalkeepers: Bouhaddi, Bruneau, Peyraud Magnin.


Defenders: Bacha, Bronze, Buchanan, Houara D'Hommeaux, Kumagai, Majri, Mbock, Petit, Renard.


Midfielders: Abily, Brian, Cascarino, Hamraoui, Henry, Marozsan.


Forwards: Hegerberg, Laurent, Le Sommer, Malard, Thomis, van de Sanden.


...