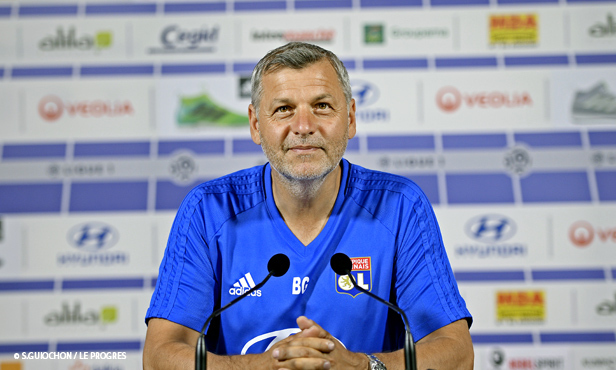 Bruno Genesio spoke to the media ahead of the Week 19 Ligue 1 clash away to Toulouse:
Injury Update

"Apart from Bertrand Traoré, who is responding well to treatment, everyone is available. He will start running again during the training camp in Spain."

The first half of the campaign

"The aim was to be in the top three at the halfway point and it's good to strive for as many points as possible. 38 points from 18 matches is a good tally, 41 would be great. It's the rhythm of a side looking to qualify for the Champions League. In terms of our play this season, we have played some very good football, some good football and some not-so-good. But the team has always kept fighting, this side has character and that's why we are where we are today. We have been consistent, even if we can always do better. I congratulate the players on their coommitment and I want one last effort tomorrow before the winter break."

Toulouse

"They are struggling. They don't have many points. But they are a side with strong fighting values. It won't take match to turn their season around. We have to be careful. I feel that the players are focused and looking to build on the weekend win over Marseille."

Memphis on the bench vs OM

"We wanted a bit more density in midfield with our wide players in attack able to get back and defend. Overall it worked pretty well. We are happy. Memphis took it very well, and it showed when he came on - he almost scored the third goal. THere's no problem there. He has showed he can also defend. He has been playing a lot of football. Memphis is a very important player for us. His statistics prove that."

A change in formation?

"I'm thinking about it and it will be an element of our training camp in Spain. A 4-3-3 formation with one No.6 is my preferred Plan B. 4-4-2 is very physically demanding and doesn't solve our possession problem... Nabil Fekir in central midfield? Sometimes he finds himself in this position. He did very well in passages vs Marseille. He helps us hold up the ball and keep possession. I will talk about this in the coming days with the players. The 4-2-3-1 works very well, but it's good to have another option."

The holiday diary

"The players will have ten days holiday. It's a lot, but they need it. We have played a lot of football. They need a break, both physically and psychologically. The fitness coaches will give them some work to do. We will start training normally on 31 December. It will be important to be ready to go, otherwise we'll have lost time. The players have to be professional and there will be fines if they don't return in good shape."

The departure of Joël Bats

"I won't be on the bench with him. It's a huge regret. It's the end of a great adventure and of our professional careers together. We have" been working together for 11 years. We have had to odd argument. Perhaps we'll work together again in the future. I have learnt a lot from him, especially his life philosophy... He has always been an assistant coach. His qualities? Attention to detail, in everything he does, every day. He's 60 years old and he still hits 400 shots every day in training. A negative? He's pretty hard-headed... like me..."