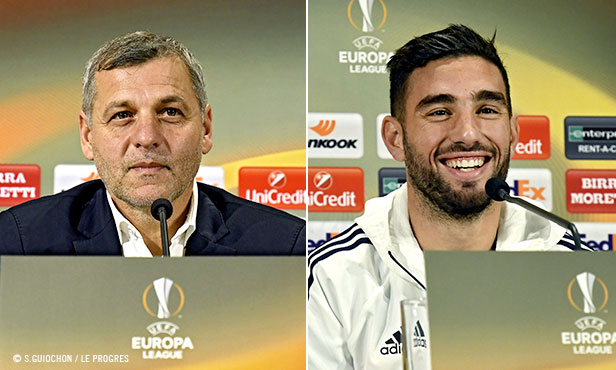 Olympique Lyonnais coach Bruno Genesio and midfielder Jordan Ferri spoke to the media ahead of Thursday's UEFA Europa League clash against Atalanta:
Bruno Genesio
"The team is well prepared. We ran a lot against Caen in the last game. We've had four days to recover. I know the players are ready. I'm not worried about that… We want to finish top of the group. But whatever happens, we have a lot of big matches coming up. Even if we finish first in thr group, we can still play against one of the Champions League sides. But we are all competitors and the only real advantage of finishing first is to play the return leg at home... Atalanta play with three at the back but will look to attack. They are a very well-organised side. We saw that in the first game. We are expecting a very tactical match, but we have the attacking potential to cause them problems and play our own football... Nabil Fekir? He's not struggling physically, he just missed a few chances. You have to accept that he can also have a run of lesser form from time to time. But he will soon show that he is a very important player for us, capable of making the difference... I am monitoring Cheikh's progression. It's time to show him that he is part of our project and that we believe in him. But we have to be careful and patient."
Jordan Ferri
"I have been playing in this competition for a few years. It's important for me and the club. It's one of our objectives. We want to finish first in the group to have the best-possible draw for the next round. We're not here to play a charity match, but to play well against a very good side. We want to stay in top form. We will see if Atalanta come out attacking and if we can catch them on the counterattack... Our style of play has changed. We counterattack more than previous seasons. We have a very young side with some very talented players and young and old get along very well. We can really achieve something this season. The competition for places in midfield? It's always been like this in this club. This year, it's a little tougher for me, but I have done the job every time the coach has called on me. My job is to help the team as much as possible. I love this team, this club. As long as I am here, I will give everything for OL and the fans. I'm not worried about my future. I just want to finish the year well. I will think about all that during the winter break."