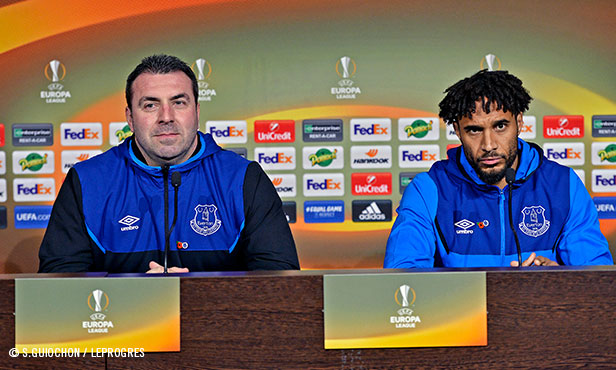 David Unsworth, stand-in Everton coach since Ronald Koeman's sacking, and Ashley Williams, who will wear the captain's arm band at the Groupama Stadium on Thursday, were at the press conference on the eve of the Europa League return leg against OL.
DAVID UNSWORTH

"We've been playing a lot lately. I want to change things around and give our young players a chanbce. We're here to win. Nothing's impossible. We want to win and we've always believed we'll qualify eventually. The Europa League is an important competition for us. There will be around 3000 Everton fans in the stadium tomorrow. We have a team that's capable of winning tomorrow. We can't wait to play this match and you can be sure that we'll give our all on the pitch. We have a fantastic club, with a long history. I work hard with my players and my staff to focus on the present. When we recruit players, it's always hard for them to adapt when the isn't playing well. It's like that for every club. Integration comes more easily when the results are good. We're a team and as soon as we string some decent performances together, our confidence returns."


ASHLEY WILLIAMS
« En tant que joueurs, on est habitué aux changements d'entraîneurs. On se sent forcément responsable. Mais on fait de notre mieux, tous les jours à l'entraînement. Malheureusement, les résultats ne suivent pas pour l'instant. Tous les matches sont importants pour nous. On a besoin de regoûter rapidement à la victoire. Demain, on affrontera une bonne équipe de Lyon. On doit faire de notre mieux, il faut créer un élan de confiance. J'imagine qu'il y aura une réaction par rapport à ce qu'il s'est passé avec moi à l'aller. Mais c'est que du football et ce genre de choses ne m'affecte pas. On doit rester soudé. Il faut rester fort, continuer à jouer. On doit faire cela pour nos supporters. »
"As players, we're used to changing coaches. We necessarily feel responsible. But we do our best everyday in training. Unfortunately, the results aren't going our way at the moment. Every game is important to us. We need to get back to winning ways quickly. Tomorrow, we're facing a good Lyon side. We have to do our best, we need to create a spirit of confidence. I guess there'll be a reaction to what happened with me in the first leg. But that's football and those sorts of things don't bother me. We have to stay solid. We need to stay strong and carry on playing. We have to do it for our fans."
---
...


Arrivés à Lyon peu avant 17h00, joueurs et staff d'Everton ont pris part ensemble à la reconnaissance du Groupama Stadium, l'enceinte qui accueillera la rencontre les opposant à l'OL pour le compte de la 4e journée de Ligue Europa. Pas d'entraînement pour des Anglais qui ont effectué une séance matinale dans leur propre camp de base avant de décoller en direction de la capitale des Gaules. Parmi les absents notables du côté des Toffees, on notera celles des vétérans Wayne Rooney, Leighton Baines et Phil Jagielka, l'habituel capitaine du club de Liverpool.

Arriving in Lyon just before 1700, the Everton players and staff took off together for the Groupama Stadium, where they will play OL in the fourth match day of the Europa League. With no training for the English, who had already trained at home earlier before heading off for Lyon. Veterans Wayne Rooney, Leighton Baines and Phil Jagielka, the usual captain, are all absent.

...