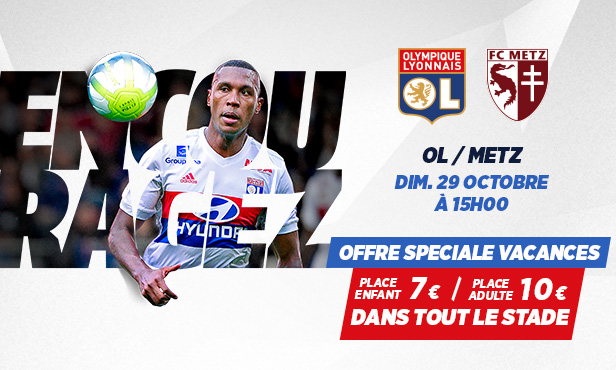 Book your seats for OL-Metz from the special price of €10 throughout the stadium (€7 for those under 16), for the eleventh week of Ligue 1 Conforama at the Groupama Stadium on Sunday 29 October at 1500h.
OL-FC Metz : Sunday 29 October at 1500h.


Do not miss your chance to book your seats through the Groupama Stadium ticket office, via the online ticket office or over the phone with our customer service agents on 0 892 69 69 69 (€0.05/min) and at our usual points of sale.

GETTING THERE
Find all the information about the various modes of transport for geting you to the Groupama Stadium, purchasing parking/tram tickets or motel parking here and also the schedule for the pre-match entertainment and transport (tram timetables and parking station opening times).

Parking from €5.
You can buy your stadium parking right here
---
Find all the information and the special experiences available before, during and after the match (your transport options for getting to the Groupama Stadium, the brasseriepack, the VIP experience, the escape game pack and the mobile app) on the the dedicated site here