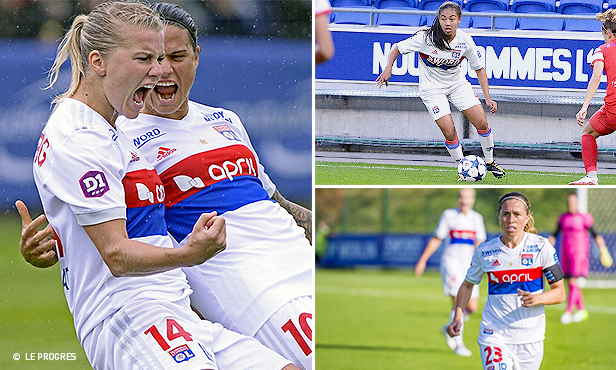 The international break gives us a chance to reflect on the stats of the OL Women's first part of the season.
1: The first official match for Selma Bach in Lyon colours (photo below) and the first goal with Lyon for Lucy Bronze against Medyk Konin at the Groupama Stadium. Emelyne Laurent also scored her first goal for her new team in her first match, against Bordeaux.
5: In all their away games since the start of the season, Reynald Pedros's players have won five-nil: at Guingamp, at Montpellier, at Konin and a Soyaux.

9: With their nine-nil win against Medyk Konin, Lyon earned their win with their biggest winning margin thus far at the Groupama Stadium, beating the record of the eight-goal lead against Slavia Prague (9-1) and (8-0).

13: With 212 goals scored in the Lyon shirt, Eugénie Le Sommer is only 13 goals away from Lotta Schelin's record of 225 goals for the bluc. The OL Women's striker has already scored nine goals this season.

14: The number of goals scored by the OL Women's number 14, Ada Hegerberg, since the start of the season: nine in D1 Women's and five in the Women's Champions League.

47: The number of goals scored by OL Women's since the start of the season. 47 goals in eight matches, with an average of 5.875 goals per game.

200: Sarah Bouhaddi played her 200th match in the Lyon shirt when they travelled to Soyaux, in the Women's league. The OL women's goalkeeper joins Abily, Renard, Necib, Thomis, Le Sommer, Schelin, Petit and Henry in the 200-match club.

299 : With 299 matches for Lyon under her belt, Camille Abily is only one match away from her 300th. The OL Women's midfielder will be the first to reach that figure.

300: The ninth goal scored against Medyk Konin by Wendie Renard is OL' Women's 300th in European competitions. A nice milestone for the captain who has won everything with her club.