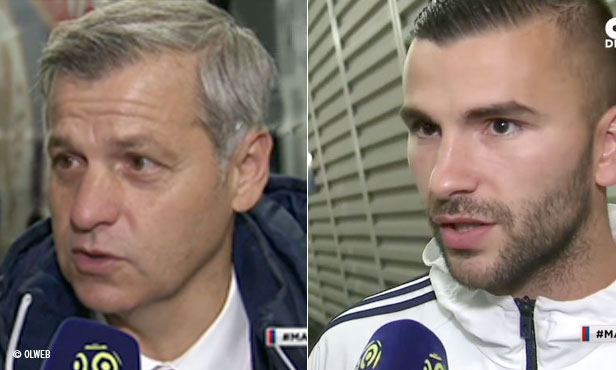 The Lyon coach and his players took turns at the OLTV mic to share their thoughts after their big win against Troyes.
Bruno Genesio
"The job was done properly. In the first half, we didn't perform that well technically. But we were effective enough to take the lead before the break. There are always tough matches. We had our minds set on getting the three points and a run of wins going. We're back among the frontrunners. We have a week to prepare for the next match... We have some good players who are in a good place mentally. Those who don't play regularly have always come forward when called upon. We're going to need everyone... What about Myzian's outburst? There were some reactions I wasn't happy about. We need to think of the team first and foremost. With the penalty, Memphis was always going to take it.'
Anthony Lopes

"We did the job. We kept our heads down to build a big lead and be able to relax towards the end of the game. We took the match by the horns. We really pushed for a win this match to kick-start our winning streak. We still need to get the three points against Metz to keep climbing the ladder. There are some important games coming up."
Houssem Aouar

"It was really important to get the three points. We want to keep the run going. This win bodes well for the next match. We managed to avoid conceding any goals and it's the first time in while. The start of the match was tough but we kept our heads together and stayed on the right track. We went on to bring it home."
Lucas Tousart

"We've seen some tough endings to matches in the last few weeks. We saw out tonight's match without too much stress. We enjoyed ourselves and that's nice. We like playing these sorts of games. It's nice to be solid in defence again. We need to keep it up. Every match till the end of the season is vital. We're aiming high."