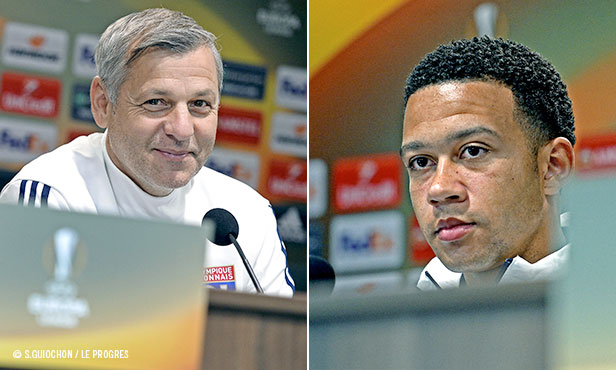 The Lyon coach and his forward, Memphis, attended the press conference to answer questions from French and foreign journalists on the eve of their match against Everton at Goodison Park.
Bruno Genesio

"We have a big sqaud brimming with talent and that gives us the depth to play in several competitions at once. We have a few players out and there will be a few changes in the team that starts tomorrow. We have more confidence after the Monaco match but we shouldn't get complacent. The Europa League is an extra source of motivation for us and should spur us on. Memphis needs to play more as part of a team. He's capable of some amazing things but he needs to put the team's game first. At the end of the day, our stats aren't that great. This puts us in a tough, but fairly rectifiable situation. This is a very important match. I have enormous faith in Myziane. He'll go some way to making up for Mariano's absence."
Memphis
"I'm happy to be coming back. I've already played once in this stadium. It's done the team good to have won they way we did against Monaco. We need to carry on that team spirit and that mindset for the match tomorrow evening. I'd rather talk about the future than about my past at Manchester United. I'm really looking forward to playing tomorrow. OL have a lot of talent. There are a lot of young players. Maybe we lack a bit of experience. But what's important is to get a good result away. We need to avoid conceding goals because that has cost us dearly recently. We've already had two draws so we need to work together to get results. I need to build confidence. I feel in good physical shape."