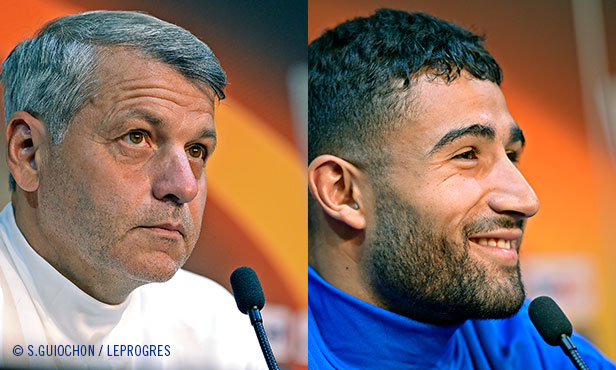 The OL captain and his coach, Bruno Genesio, fronted the press on the eve of the UEFA Europa League Matchday 2 clash with Atalanta.
Bruno Genesio

"It's an important match, especially in the Europa League. We absolutely need to take all three points after stumbling in Limassol. I don't get the impression that my side has failed to mobilise. We have had some lapses in concentration. We really need to have fighters out there… We spoke a lot after the Dijon match. We analysed it. There is no doubt in the squad. We also took a good look at what worked well, so it wasn't all doom and gloom. Atalanta are a well-organised team with very strong principles. They're capable of pressing very hard in a finely tuned formation. I know the players and they're very talented. We know what's waiting for us…
We managed to strike a balance with the arrival of Tanguy Ndombele, who is a real link between defence and attack. There won't be a lot of changes. We need to fine-tune our understandings… my role is to take the pressure off my squad, correct errors and help the youngsters to progress - all so we can get results… Memphis? His absence is not a sanction. I spoke with him. I'm close enough to my players that I never forget about them. He will surely have a chance to show all his qualities tomorrow. I always try to be just and fair with my team given their level and the context of the match. I haven't come under any pressure from the club's directors. All the players are eligible to be starters or substitutes or to be left out of the squad… all our players are now fit again. Rafael and Marçal could play."
---
Nabil Fekir

"We all know that this is a very important match for us, especially as it's at home. Everyone is aware of this. We have to win this match. We're coming off a very disappointing draw with Dijon. We're ambitious, so we're not satisfied with our recent results, but we have confidence in ourselves and in our quality. We need to get back to winning ways and grow in confidence, as well as tightening things up at the back. We need to tougher and better concentrated, playing good football and imposing our game… Atalanta are a very good team; it's no mean feat to beat Everton 3-0. We'll try to pose them as many problems as possible…
We're not thinking too much about the fact that the final will be at Groupama Stadium. There are still lots of matches and stages of the competition. We need to focus on the match at hand… the coach has asked me to play between the lines. He has given me a free role out on the pitch and that's exactly how I like it."