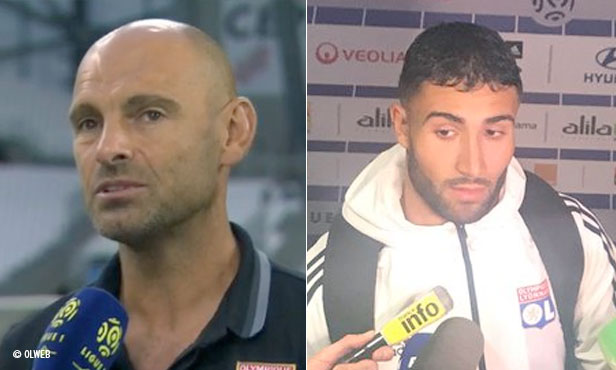 Gérald Baticle, Bruno Genesio's assistant, and the Lyon players gave OLTV their reactions after the draw with Dijon.
Gérald Baticle
"It's disappointing. In the end, we didn't reach the objective we had set for ourselves as a collective. We relaxed somewhat after our goals. There was some good movement on the flanks; that worked better than in previous matches. But we had lapses in concentration that were completely avoidable. Perhaps we think we have done the hardest part and thus dip in concentration. We knew we had to watch out for this team… I can't attribute this result to our Europa League commitments. I felt that the squad was very focused coming into this match. Beyond the result, there are positives tonight, especially in attack, but there are also some negatives that reappeared. We should have beaten Dijon… Houssem played an intelligent match and made some promising choices. He showed that his technique is sublime. He has character and we saw his personality tonight. He is on the way up… We give our youngsters a lot of responsibility."

Nabil Fekir
"We're all really disappointed. We were up against a side who played hard and efficient football. We had some problems in terms of concentration. We need to knock that on the head for the matches to come. We have no choice next week: we have to win on Thursday and Sunday."

Houssem Aouar
"The lads are all disappointed because we really wanted to get back on track tonight. We knew it would be tough against a side who like to get forward. We did the tough part by scoring the third goal but then we conceded because of a lapse in concentration. We were so close… I couldn't wait to show what I can do. I only found out today that I would be starting. There is naturally a bit of pressure that comes with your first start, but I managed to turn it into something positive. I scored but that's not the most important thing tonight. It's nice to know that the fans are behind me. I know they had been waiting a while to see what I was made of… I'm fairly satisfied with my performance but there is a bitter taste after Dijon's late equaliser. For my goal, I met the ball early. We've been working on that in training. It was a really great moment for me."

Tanguy Ndombele
"We lacked effectiveness in both areas. We need to be much more decisive in the penalty boxes. We didn't handle the game as well as we could have. But we need to lift our heads and keep moving forward."