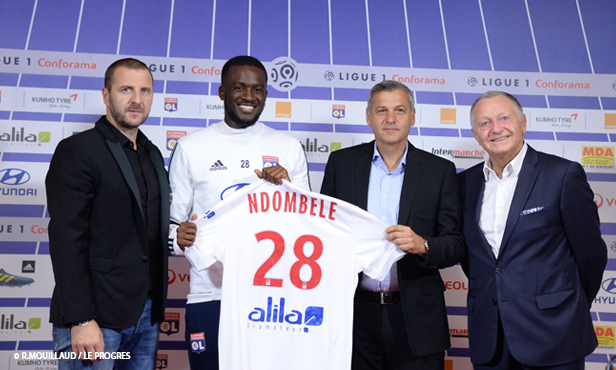 OL's new U19 Spanish international midfielder was at the Groupama OL Training Centre along with Jean-Michel Aulas, Bruno Genesio and Florian Maurice.
Pape Cheikh Diop

"I'm very pleased to have come here. OL is a great club that I've followed since I was small. I think that the president's call and the conversations with Florian Maurice and Bruno Genesio convinced me to sign. I was impressed when I arrived here. There are a lot of factors here to help us advance and make Lyon greater."
Jean-Michel Aulas
"I spoke several time directly with him. We're very pleased to have recruited him. Anything can happen in the market that is, in these last few days, quite vigorous. Cheikh is the seventh high-level recruit. We did a very early deal. We've taken into account that there are some changes to make. We basically did what we had to do. We'll meet on Tuesday afternoon to see if there are any final steps we need to take. But for the moment, we're very satisfied. This is an unprecedented investment by the club. This is also the best start that the club has made in five season and with the arrival of Cheikh, we need to continue like that."
Bruno Genesio
"He's a young player whom the big European clubs have had their eye on. He's had other offers. He's a flexible player who can adapt to various playing methods: in front of the defence or coupled with another midfielder. We have a lot of faith in him despite his youth. He has the ability to pass well under pressure, to break through the lines. He's also a player who has a good footballing intelligence and places himself well to win balls. That's what convinced us. This move is in keeping with the club's strategy of bring in in young players with potential. There are several options, even like playing with three midfielders."
Florian Maurice
"He's a player I followed in the Europa League for two years. I kept monitoring him afterwards. He's a player with a high work rate, who's capable of linking the play out of defence. Celta Vigo informed me of Cheikh's virtues. Even if he hasn't played that much and hasn't been able to play regularly, I have a good feeling about him."
???????? @PapeCheikhJR est Lyonnais !! pic.twitter.com/cQyISNWvVr

— Olympique Lyonnais (@OL) 29 août 2017

...

. CHEIKH'S PLAYER PROFILE

Position: central midfielder
Nationality: Spanish
Date of birth: 08/08/1997 (20 years old)
Place of birth: Dakar (Senegal)
Height: 1m80
Weight: 68 kg
Youth club: Celta Vigo (2013-15).
Former club: Celta Vigo (2015-17)
Honours: European champion with Spain U19s (2015)
International caps: 10 matches with Spain U19s

...