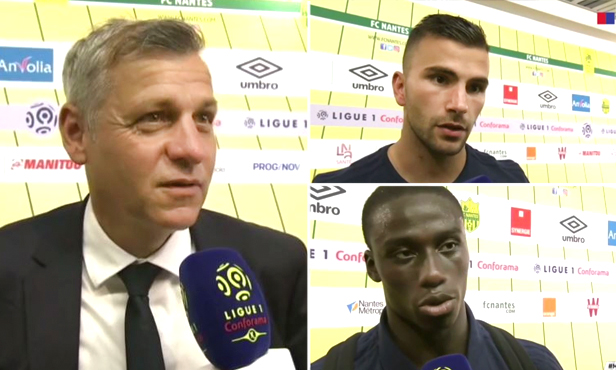 The Lyon coach and his players took turns at the OLTV mic to give their analysis of the meeting against Nantes.
Bruno Genesio

"I'm disappointed that we didn't take the three points because we deserved them. We have to accept this draw. We're two points off of where we hoped to be at by now. We've taken two points per match so we hope to carry on like that. We're nonetheless disappointed that we don't have four points more. We dominated for the whole game and we were well organised. We've made progress in these areas but we were too wasteful in our build-up... Anything can happen until 31 August."«


???? A.Lopes sur OLTV "On a eu les opportunités pour mettre ce but et on a été peu en danger. C'est deux points de perdus aujourd'hui" #FCNOL pic.twitter.com/F95TroeulT

— Olympique Lyonnais (@OL) 26 août 2017

Anthony Lopes
"We dropped two points tonight because we had plenty of chances to score. We weren't really under threat at the back. The crowd wasn't on our side. We need to be more ruthless. We need to rest and continue to work. We still feel very frustrated like we did against Bordeaux."

Bertrand Traoré
"We didn't convert our chances. Fate wasn't with us tonight. We'll have to satisfy ourselves with the draw. We tried very hard, we tried everything. We weren't clever enough in front of goal. But we're unbeaten, and that's the most important thing. There's plenty of work to do but our ledger's fairly good. We need to keep it up."
???? @ferland_mendy "On n'est pas satisfait. On a eu des occasions pour marquer mais on n'a pas su conclure" #FCNOL pic.twitter.com/e7znFAYhHf

— Olympique Lyonnais (@OL) 26 août 2017

Ferland Mendy
"We're not that pleased with ourselves. We should've won, we had a lot of chances but we didn't put them away... My first match in Ligue 1? I had a bit of trouble finding space at the start of the match but I found more as the match went on. I was a bit tired by the end."