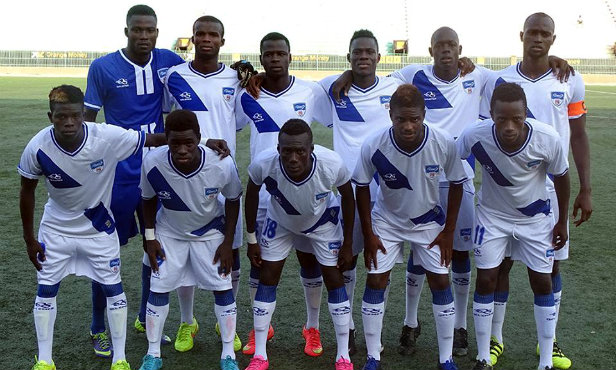 For the first time in its history, Olympique Lyonnais' partner club has been promoted to the elite level of Senegalese football. The relationship between the two clubs is far from unusual.
On Monday evening, DSC secured this promotion to the first division after their convincing 4-0 win over Bargueth. It was a crowning performance for this club that has always made strong recruitment and player development priorities: "we've come second or third many times and we got out of the woods three days from the season's end to defeat leaders Sonacos, to secure first placed after the win on Monday night over an opponent who was already relegated" explained Alain Olio, former player and trainer from OL, who took over the reins of the Dakar Sacré Coeur development centre shortly before the partnership was made official in 2015.
Dakar Sacré Coeur has been waiting for this achievement for six years, all the while remaining faithful to its principles: "despite our aims, we have always sought to keep developing players", says Mathieu Chupin, the club's president. "Many of our players have gone onto play in the best teams in the country. We will now be able to compete against those clubs by aiming high next season. We will also try to strengthen our club because this partnership with OL has already done us a lot of good. The job Alain Olio has done is huge, particularly with the organisation of the youth programme."
One of Dakar Sacré Cœur's number is set to join the ranks of Olympique Lyonnais for the coming season: namely, Oussemou N'Diaye. In March, the attacking midfielder from the class of 1998 signed a professional contract with OL: "He did all his learning at DSC", added Alain Olio. "He's a kid who's progressed through our programme and who will be able to reach a new milestone in the context of this partnership. He has impressive physical potential and some very promising technical ability. He will now need to adapt to this new direction and this new challenge for him."
Oussemou N'Diaye's arrival to the pro 2 squad over the summer break is an additional step in the relationship between the two clubs: "We're increasing our civic activities and promoting the OL brand in Senegal", affirms Mathieu Chupin. "But the main thing is still what happens on the pitch and the positive results our teams earn."
Dakar Sacré Cœur should make their first division debut next October. Meanwhile, as he takes his first steps among the elite, the Senegalese club will be keeping an close eye on how Oussemou N'Diaye goes in the Lyon jersey.