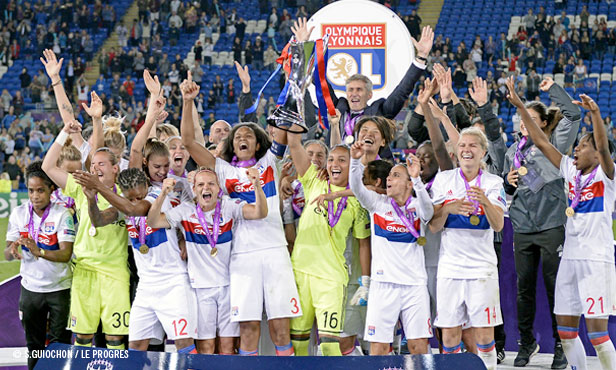 OL Women managed a miracle to hold their title as European champions. After a first half in which PSG had the clearer chances, Lyon went on to dominate but didn't prevent the match from going into extra time and then to penalties. It was Bouhaddi who settled the shootout. Everything turned out wonderfully!
HIGHLIGHTS .

12'. Close call in the Parisian six-yard box.
20'. Bouhaddi comfortably saves Cristiane's long-range effort.
23'. Morgan goes off injured.
32'. Majri shoots into Kiedrynek's gloves.
33'. Bouhaddi pulls off a blinder of save to deny Cruz.
40'. Hegerberg's header doesn't quite have the power.
47'. Hegerberg's shot is deflected wide.
53'. Huge double chance for Hegerberg.
63'. Alone against Bouhaddi, Delie, misses the goal.
104'. Marozsan's shot goes just over.
Penalty shootout: Bouhaddi slots in the winner!
. SUMMARY.
Title holders OL Women were out to continue their European reign. But along the way, they came across their familiar tough foe in this first 100% French Champions League final. Winners of the first two of three matches between the two in recent weeks, Lyon arrived in Cardiff with some confidence. Foregoing the feeling-each-other-out stage, the teams began the match with plenty of intensity. The pace dropped off a bit when Morgan was injured and had to go off. Bouhaddi pulled off a miraculous save to deny Cruz's opening the score from the only real chance of the match up till that point. The Lyon keeper was there once again to deal with Formiga's header. At the opposite end, Hegerberg didn't quite manage to get enough power with a similar attempt.
Outdone as far as decent-chance creation went, Lyon still put together two huge opportunities via Hegerberg after coming out of the change rooms. PSG responded, but Delie didn't get her attempt on target when she was one-on-one against Bouhaddi. Ten minutes before a possible match extension, it was Lyon who were in the ascendancy, but one felt that either team could've scored the precious winning goal. With the ball at her feet, Marozsan could've done just that in the last minute of normal time… but her shot went just wide of the post. Extra time came and went without the teams being able to settle the matter. The penalty shootout was drawn out, nerve-racking, suffocating… until Bouhaddi put it to rest with a magnificent right-footed shot. OL Women thereby pulled off the miracle to retain their title as European champions, the fourth such trophy in their history, and to do the triple for the second season running. Massive!
---
. TURNING POINT .
Another penalty shootout concluded by... Bouhaddi !
The match between these two was, once again, tough right till end of the night. Already separated by a marathon penalty shootout in the final of the Coupe de France a few days ago, the two teams had to do it all again to determine the season's European champions. The situation again went in OL's favour thanks to a red hot, octopus-like Bouhaddi. Invaluable in her own goal, the Lyon keeper went to the other end and put one past her PSG counterpart to send her team flying high over Europe; scenes strongly reminiscent of last season's shootout. History is wonderful and has repeated itself!
???????? Bouhaddi, la gardienne de l'OL, offre le titre à Lyon grâce à son tir au but vainqueur !!!!!! #OLPSG pic.twitter.com/bztTHHO17U
— Eurosport.fr (@Eurosport_FR) 1 juin 2017
---
. LA STAT .
4/6
OL Women have further cemented their place both in the Champions League and in European football. Already having secured three continental titles for their trophy room before this final in Cardiff on Thursday, they needed just one more to draw level with record holders, Frankfurt. They achieved that with this win against PSG in the final match of 2016-17. Six-time finalists, Lyon brought home a fourth Champions League title after those of 2011, 2012 and the one from last season. They now know that they need one more next season to set a new benchmark!
Relive that moment, @OL fans! ????????????????#UWCLfinal pic.twitter.com/OPY80cu4Yt
— UEFA Women's CL (@UWCL) 1 juin 2017
L'analyse de la consultante
Coralie Ducher :
"There was plenty of aggression, passion and desire to win. The girls went for it right to the end and didn't let up. In extra time, the whole team kept their focus to go on and win right to the end with the penalty shootout: Sarah was the perfect exemplar of that mentality. She won her one-on-one after an almost perfect performance. Anyway, well done to all the team for doing the triple and further promoting women's European football."
...

. TEAM SHEET .

At the Cardiff City Stadium (Wales).

Women's Champions League (final) : OL-PSG 0-0 7-6 on penalties

Referee: Bibiana Steinhaus (ALL). Attendance: 22 433.




Penalty shootout: Christiane, Delannoy, Delie, Formiga, Boquete, Lawrence scored; Geyoro, Kiedrzynek missed for PSG. Majri, Renard, Mbock, Kumagai, Marozsan, Abily, Bouhaddi scored; Le Sommer missed for OL.




Yellow cards: Diallo (55'), Georges (81'), Morroni (115') au PSG. Kumagai (66') for OL.




OL: Bouhaddi – Mbock, Renard (cap.), Buchanan, Majri - Kumagai, Abily, Marozsan – Morgan (Thomis, 23') (Lavogez, 107'), Hegerberg (Bremer, 60'), Le Sommer. Coach: G. Prêcheur.




PSG: Kiedrzynek – Geyoro, Delannoy, Paredes – Perisset (Morroni, 90+3'), Diallo (Boquete, 57'), Cruz (cap.) (Georges, 80'), Formiga, Lawrence – Cristiane, Delie. Coach: P.Lair

...