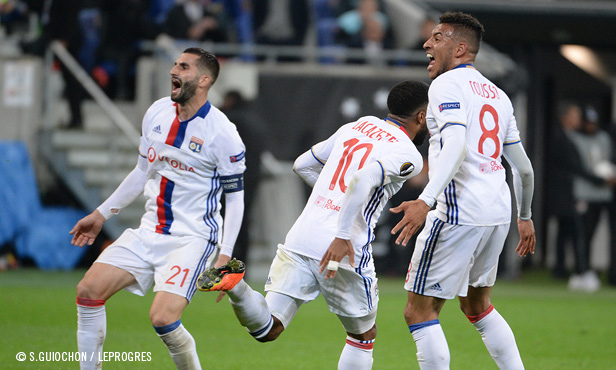 First to concede, OL didn't cave in in the face of the mountain they had to climb. In a pulsating atmosphere, they scored three of the four goals they needed to force extra time, but that fourth never came despite a breathless end to the match. So cruel as they gave everything, outdid themselves. Thanks lads!
. HIGHLIGHTS .
14'. Younes's lob goes just over.
24'. Onana holds Gonalons' header… then Lopes saves from Ziyech.
27'. Dolberg scores at the end of a quick counter. 0-1.
45'. Lacazette earns a penalty and converts it himself. 1-1.
45+1'. Lacazette slots into an empty goal from Fekir's cross. 2-1.
50'. Onana holds Diakhaby's effort.
65'. Huge chance for Fekir, who doesn't find the target.
76'. Onana saves in front of Rybus.
79'. Van den Beek hit the crossbar.
81'. Ghezzal scores with a powerful header.
84'. Viegerver is sent off. 89'. Cornet shoots just wide.
---
. SUMMARY.
The atmosphere in the Parc OL was truly special: at the high level of the feat that it's team had to pull off. After a very intense opening ten minutes spent mostly in the Ajax half, the visitors finally found some breathing space and created the clearest chances of the opening period. OL found themselves too exposed, particularly in set pieces. And the inevitable soon came to pass. On a quick counter attack, Dolberg dinked the ball over Lopes to put OL a little farther away from a European final. Well, that's what the Dutch could say to themselves… But despite the trouble Lyon were having creating a threat to Onana's goal, Lacazette fully kickstarted his team with two goals in the space of a few seconds, just before the break. OL could believe again and the scoreline was a minor miracle given the nature of the first half.
The start of the second half gave plenty of hope to a team and stadium playing as one. Diakhaby's effort, then Lacazette's shot didn't quite have enough sting, but there was an undeniable sense that something wasn't far off happening. Fekir missed a huge chance to get closer to the dream that so many had been hanging onto. That was the last decent chance for a while… until the final quarter of an hour and that save by Onana to deny Rybus. However, there was nothing the Dutch keeper could do about Ghezzal's header that brought OL closer to parity exactly ten minutes from the end in an indescribable atmosphere. A final period to take the breath away against a team reduced to ten… a team that, in the end, didn't allow OL to force an extension of time that the latter probably deserved. The first leg disaster was too heavy and the European adventure ends at the door to the final. So cruel as they gave everything, outdid themselves. Thanks lads!

---
. TURNING POINT .
Cornet's shot and extra time only a few millimetres away
As with this chance for the Lyon forward, OL went extremely close to pulling something special off. After the Dutch opened the score at the half-hour mark, Lyon had only an hour to score not three, but four goals to force extra time. The fourth could've come from this Cornet effort right at the end of normal time… But destiny decided otherwise and this shot to extend the match went millimetres wide of Onana's goal. And the last chances in a crazed atmosphere didn't come to anything either.
. THE STAT .
0/3
The doors of a European final have once again closed on Lyon's nose. This season, OL played in the third European Cup semi-final in their history. And for the third time, the adventure was halted at the last step, so close to the continental grail. Eliminated this Thursday night by Ajax Amsterdam in the Europa League, OL had already contested two other semi-finals, one in each of the other two European competitions. In the 1963-64 season in the Cup Winners Cup, there was the epic duel against Sporting Lisbon with the play-off match needed to separate the two teams finally ending in favour of the Portuguese (0-0 at Gerland; 1-1 at Lisbon; 0-1 in the play-off). More recently, in the 2009-10 season, Jean-Michel Aulas's club acquiesced to the might of Bayern in the Champions League with two setbacks (1-0 in Munich; 0-3 at Gerland) after an excellent run that featured a point of pride in eliminating Real Madrid. Likely to qualify for next season's Europa League thanks to the league, Lyon will try again to get their club to a first European final. A final that will be played at the Parc OL..
.
EXPERT EYE
Jérémy Berthod :
"The handicap was too big. We got ourselves into some very bad situations. We weren't far away from pulling the feat off. We had some chances even though they opened the scoring. I'd like to pay tribute to the players and the coach gave their all. Ajax were able to score their away goal. Our players can be proud of the performance they put in. The regrets are all about the first leg: in this return leg, they did what they should've done in the first leg. We ended up losing out, but we showed that we deserved to be in the last stage of the competition. Over the two matches, Ajax deserve their qualification. We played half by half and that wasn't enough to hope for something at this level."

...

. TEAM SHEET .

At the Parc Olympique Lyonnais in Décines.

Europa League (semi-final 2nd leg) : OL-Ajax Amsterdam 3-1 (2-1)


Referee: Szymon Marciniak (POL). Attendance: 53810.

Goals: Dolberg (27') for Ajax Amsterdam; Lacazette (45' and 45+1'), Ghezzal (81') for OL.

Yellow cards: Morel (18'), Tolisso (20'), Diakhaby (48'), Nkoulou (61') and Fekir (61') for OL ; Veltman (49'), Klaassen (50') and Viergever (68', 84') for Ajax Amsterdam.


Red cards: Viergever (84') for Ajax Amsterdam.

OL: Lopes – Rafael, Nkoulou, Diakhaby, Morel (Rybus, 74') – Gonalons (cap.), Tolisso – Cornet, Fekir, Valbuena (Ghezzal, 77') – Lacazette. Coach: Bruno Genesio.

Ajax Amsterdam: Onana – Veltman (Tete, 65'), Sanchez, De Ligt, Viergever – Klaassen (cap.), Ziyech, Schöne (Van de Beek, 58') – Traoré, Younes (Kluivert, 83'), Dolberg. Coach: Peter Bosz.





...