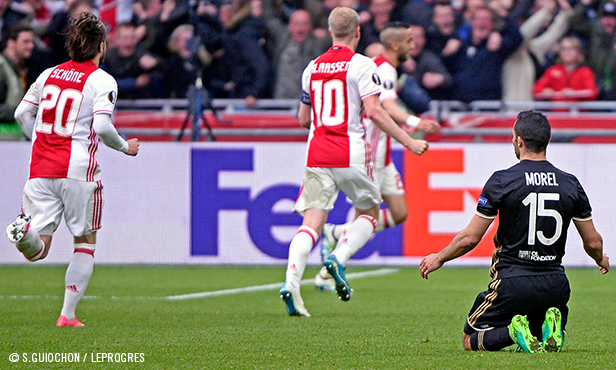 OL have had an absolute nightmare on Ajax's home turf. Beaten four goals to one and shoved around to an unusual extent, Lyon have fallen well behind in the tie. They now need to pull of a big comeback in a week's time at the Parc OL in order to maintain any hope of reaching the final.
. HIGHLIGHTS .
10'. Onana makes a big save from Cornet's close-range effort.
25'. Traoré heads in from a free kick. 1-0.
34'. Alone against Lopes, Dolberg slots home. 2-0.
44'. Left to fend for himself, Lopes saves from Younes.
49'. Younes scores after Lyon lose the ball. 3-0.
52'. Fekir shoots after a slalom run, but Onana saves well.
57'. Lopes holds Dolberg's fierce drive.
64'. Lopes saves Traoré's curling shot.
66'. Valbuena curls one in from the edge of the area. 3-1.
69'. Fekir loses out in a one-on-one. 72'. Traoré knocks Ziyech's cross in. 4-1.
---
. SUMMARY.
"To play our game without compromising our chances ahead of the return leg". This vigilance was the order of the day for the coach ahead of this first leg of the European semi-final in the impressive Amsterdam Arena. And his team didn't lose site of the need to score a precious away goal, showing their intent from the outset, like when Cornet had a decent chance and was involved in a few other good situations in the first 15 minutes. Despite this positive start, they were once again taken by surprise with an Ajax free kick turned in by Traoré. Spurred on by the euphoria this goal gave them, Ajax stepped up the pressure on Lyon, forcing the latter to err several times, like when Dolberg added a second after poor clearance work out of defence. OL tried to revive their spirit, then to react, but Fekir's shot didn't trouble Onana. Lopes, had to rush off his line to thwart the oncoming Younes in order to avoid a larger deficit at the break."
The OL 'keeper was unable to do anything just after returning from the dressing room to stop the lead increasing to three. The Lyon defence was clearly full of holes. Valbuena's goal brought back some hope. But that lasted only a few minutes and turned to disillusion in a crazy second half in which the Dutch players were simply unstoppable. Traoré was involved in three of the goals. Fortunately Lopes, imperious in countless situations, had a huge match on his line; had he not, the tally could've been higher. Lacazette's introduction didn't change anything… OL conceded too much ground tonight with this 4-1 defeat and they need to pull of a miracle at the Parc OL next week to turn the situation around in this Europa League semi-final.
---
. TURNING POINT .
Fekir's chance to make it 3-2
It was only three minutes after Valbuena had made it 3-1… Supplied perfectly by Ghezzal and finding himself right in the middle of the opposition area, Nabil Fekir was alone against Onana. Without time to deliberate, he tried to slot between the Amsterdam 'keeper's legs, but the latter miraculously managed to parry. Even if Lyon were completely dominated in this encounter and ha gone further behind before the break, the OL forward could've done a bit better in trying to get his team back into the match. Instead, it was the Ajax players who put a serious foot to the floor and increased their lead soon afterwards.
---
. THE STAT .
1/11
Out of the 28 first leg matches that OL have played on the road in all European competitions combined before tonight, they have gone down 11 times. And out of those 11 times, ten have resulted in elimination and only one in qualification… In the first knock-out round of the UEFA Cup in season 2001-02, Lyon suffered a big 4-1 defeat in Bruges before turning it around with a 3-1 win at Gerland. We hope that Max Gonalons and his teammates, also defeated here 4-1, can pull off the same miracle Sonny Anderson and his team did.
EXPERT EYE
Jérémy Berthod :
"We had some chances to take the lead and even to get it back to 3-2. I was most impressed with this Ajax Amsterdam side, who didn't stop going forward. We played a good 20 minutes, but the first goal threw us off kilter. We made some errors and it was a heavy defeat, but it could've been heavier without a big game from Anthony Lopes. We need to pull off a miracle next Thursday in the return leg. We're capable of scoring some goals but are we capable of not conceding any? It's a huge challenge for players to turn it around and get into the history books. With the score at 4-1, we're still alive but we need to be more solid defensively. Alex Lacazette's return can give us more options up front. To pull off the miracle, we really need the public to get behind the team and play their role as the 12th man."
...

. TEAM SHEET .

At the Amsterdam Arena in Amsterdam.
Europa League semi-final (1st leg) : Ajax-OL 4-1 (2-0)
Referee: Gianluca Rocchi (ITA).
Goals: Traoré (25', 72'), Dolberg (34'), Younes (49') pour l'Ajax. Valbuena (66') for OL.
Yellow cards: de Ligt (30'), Traoré (62') for Ajax. Gonalons (41') for OL.

Ajax: Onana – Tete, Sanchez, de Ligt, Riedewald – Klaassen (cap.), Schöne (Van de Beek, 72'), Ziyech – Traoré, Dolberg (Neres, 88'), Younes (Kluivert, 79'). Coach: Peter Dosz.

OL: Lopes – Jallet (Rafael, 69'), Nkoulou, Diakhaby, Morel – Gonalons (cap.), Tousart (Ghezzal, 58'), Tolisso – Cornet (Lacazette, 76'), Fekir, Valbuena. Coach: Bruno Genesio.




...