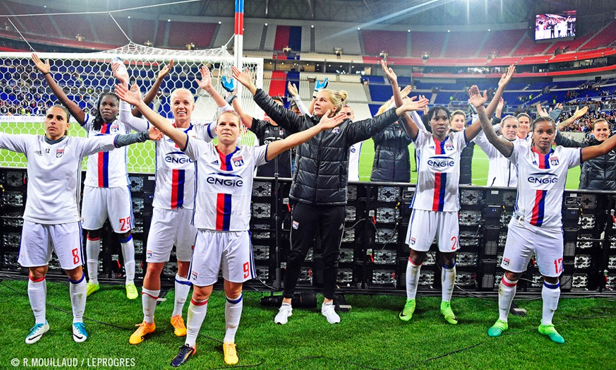 Gérard Prêcheur's players have eliminated Manchester City on the strength of their 3-1 win in the first leg. On 1 June in Cardiff, they meet PSG for the first all-French final in the history of the competition.
. HIGHLIGHTS .
9'. Marozsan's half-volley forces a diving save from Bardsley. 28'. Bronze's long-range shot goes wide. 44'. Bardlsey turns Majri's shot away. 47'. Bouhaddi holds Scott's effort. 53'. Houghton goes close to scoring an own goal. 55'. Le Sommer heads Majri's cross on goal. 57'. Lloyd's shot goes in under the crossbar. 0-1. 69'. Eugénie Le Sommer's goal is disallowed.
---
. SUMMARY.
There wasn't a lot of suspense ahead of this return leg. The 3-1 win in England last week had provided a decent buffer for Gérard Prêcheur's players. The first 45 minutes only confirmed Lyon's superiority, even if that wasn't translated to the score board or to the number of chances created: one long-range effort from Dzsenifer Marozsan and a shot from the left from Amel Majri were all the well-attended stands of the Parc OL had to cheer about.
Chances were still rare in a second half marked by the early introduction of Alex Morgan. But before long and against the run of play, Manchester City sent a cold shock through the Parc OL: Carly Lloyd took advantage of Sarah Bouhaddi's poor clearance to punish the Lyon keeper with a powerful shot that went in under the crossbar (0-1). The English team managed to hold onto the irslender lead despite Lyon's pressure and, particularly, Eugénie Le Sommer's disallowed goal.
Even though they lost the match, the OL women carry on their journey and will be at the final in Cardiff on 1 June when they'll meet PSG, who qualified earlier in the evening by defeating Barcelona 2-0 (5-1 over the two legs). Another duel between the two best French teams, who will also play each other on 13 May in the league at the Parc OL and on 19 May at Vannes in the final of the Coupe de France.
---
. TURNING POINT.
OL shoved around at home again
It had already been the case in the quarter final against Wolfsburg. Winners in that trip to Germany, OL went down 1-0 at the Parc OL. And once again, the European champions had a hard time underlining their first leg advantage. After a fruitless domination of the first half, they were lifted after their return from the change rooms by a precise shot from American Carli Lloyd. Despite a string of chances, Lyon were unable to avoid their third defeat of the season. A warning without consequence at the money end of the season and with three quasi-finals to play (and to win) against Paris Saint-Germain.
---
. THE STAT .
6
The OL women have qualified for their sixth Champions League final. They have now equalled FFC Frankfurt's record. On 1 June in Cardiff, Wendie Renard and her teammates will try to join that German team, who have already lifted the European trophy four times (2002, 2006, 2008 and 2015). For their part, Lyon have won three of their first five finals: in 2011 against Potsdam (2-0), in 2012 against Frankfurt (2-0) and in 2016 against Wolfsburg (1-1, 4-3 pens).
Expert Eye
Coralie Ducher :
"Tonight, despite the qualification, there was obviously some frustration because Lyon felt that they had the goods to win. The English played a good second half but they weren't on the level of Wolfsburg. We certainly could've created more chances even though Manchester City's changing their system put us through our paces."
...

. TEAM SHEET.

At the Parc Olympique Lyonnais in Décines.
Semi-finale Women's Champions League (2nd leg): OL women–Manchester City 0-1 (0-0)
Referee: Esther Staubli (Switz.). Attendance: 19 214.

Goals: Lloyd (57') for Manchester City
Yellow cards: Lloyd (68') and Stanway (76') for Manchester City.

OL women: Bouhaddi – Buchanan, Renard (cap.), Mbock – Houara (Thomis, 75'), Kumagai, Majri – Abily (Seger, 63'), Marozsan – Le Sommer, Hegerberg (Morgan, 46'). Coach: Gérard Prêcheur.

Manchester City: Bardsley – Stokes, McManus, Houghton (cap.), Bronze – Walsh, Scott, Lloyd – Asllani (Middag, 69'), Duggan (Stanway, 60'), Christiansen (Parris, 84'). Coach: Nicholas Cushing.

...