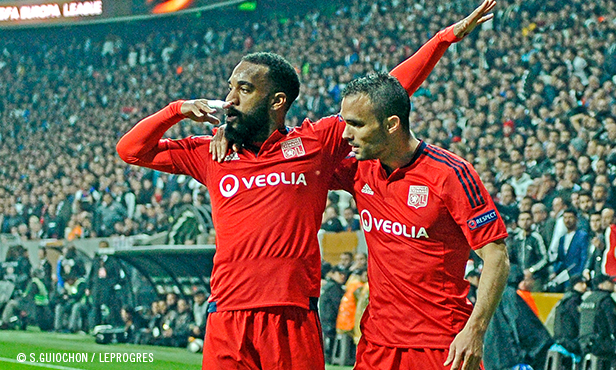 At the end of a breathtaking quarter final return leg, OL have ended their curse and qualified at the end of a penalty shoot out. Lyon now proceed to the semi-finals and can start dreaming of a first European final.
. HIGHLIGHTS .
14'. Lacazette crosses for Tolisso who shoots wide.
27'. Talisca opens the score with a shot from the edge of the area. 1-0.
35'. Gonalons' chipped through ball sets up Lacazette's deft lob. 1-1.
41'. Lacazette shoots with perfect technique but finds the post.
58'. Talisca heads into the top corner. 2-1.
68'. Fabri saves Tousart's deflected shot off the line.
75'. Morel intervenes after Talisca charges into the area.
86'. Quaresma's cross sails over Lopes and hits the post.
90'. Lacazette hits the top side of the crossbar.
102'. Talisca somehow misses the goal with Lopes out of the equation.
106'. Lopes saves well from Tosun.
112'. Tolisso doesn't manage to get his shot past Fabri.
PENALTIES: Anthony Lopes saves from Tosic and Mitrovic. PENALTIES: Max Gonalons scores the winner.n
---
. SUMMARY.
They promised the hell of the Vodafone Arena, but they opened the doors to paradise. It nevertheless took nerves of steel to withstand the pressure from 41000 fervent Besiktas supporters. It was an atmosphere so crazed as to be rarely seen in the world of football, and it took the Istanbulites right through 120 minutes of play and the penalty shoot out.

OL thought they had gotten through the hardest part when they equalised in the 35th minute through Alex Lacazette, who intelligently lobbed Fabri after being supplied by Max Gonalons. Lyon's top scorer had thereby replied to Talisca, who had opened the score after only eight minutes. At the break, thoughts turned to Lacazette's incredible chance and that fickle ball that hit the post in the 41st minute.
We soon found ourselves ruing this huge opportunity all the more because, in the second half, Besiktas came back to take the lead in the tie with a header from ex-Benfica player Talisca into the top corner to secure his brace (2-1). There then followed a host of chances at both ends of the pitch. OL and Besiktas took turns in creating opportunities to get ahead, but, each time, the goal seemed to be just out of position, like when Lacazette's shot hit the crossbar.
90 minutes wasn't enough to separate the teams. Nor the added time. How could OL get through? we wondered: with heart, courage and a steely resolve to withstand the hostile atmosphere, along with the talents of Anthony Lopes, who saved two of the Besiktas penalty shots. Symbolically, it was captain Max Gonalons who showed the way through when he buried his shot. Onto the semis, then. Well done gentlemen!
---
. TURNING POINT .
A fully inspired Anthony Lopes
He was put through his paces last Sunday in Bastia. There was a constant assualt on his goal. He responded in the best way possible: on the pitch at the Vodafone Arena. Anthony Lopes, like all of his team mates, put in a huge performance. He repulsed many attempts from Besiktas in the 120 minutes and above all was decisive in the penalty shoot out. Two inspired saves from Tosic then Mitrovic to extinguish the Vodafone Arena and free his team mates. OL stay on course and their keeper is in large part responsible for it.
---
. THE STAT .
1
This is the first time that OL have managed to qualify in a European cup competition through a penalty shoot out. In their last two, Lyon went out. Such was the case in 2005 against PSV Eindhoven, then in 2012 against Nice. In all competitions combined, fortune has rarely smiled upon the club in a spot-kick showdown. This is only the seventh time in 25 that the lads have come out winners from a shoot out.
Expert Eye
Jérémy Berthod :
"Relief and pride. It was very stressful. Taking the match as a whole, OL deserve to qualify. In containment and aggression, we were better. Besiktas threatened us in fits and starts. It's a wonderful story. Mouctar Diakhaby, playing beyond his years, made a decisive shot on goal. The players didn't shy away from their responsibilities. They were a solid outfit. An epic is being written here. The players have every reason to be very proud. They're going to enter club history. We can't hide any more, though. We want to get to the final. We need to aim high. It's amazing that we qualified with an away return leg."
...

. TEAM SHEET .

At the Vodafone Arena in Istanbul
Europa League quarter final (return leg): Besiktas JK-OL 2-1 (1-1) 6-7 via penalty shoot-out.

Referee: Milorad Mazic (SER). Attendance: 41000.
Yellow cards: Adriano (29'), Tosic (78') and Gönul (119') à Besiktas JK ; Gonalons (32') for OL.
Goals: Talisca (27' and 58') for Besiktas JK; Lacazette (35') for OL.

Penalty shoot-out: Babel, Tosun, Hutchinson, Arslan, Talisca, Necip scored, Tosic and Mitrovic missed for Besiktas; Fekir, Tolisso, Ghezzal, Rybus, Valbuena, Diakhaby and Gonalons scored, Jallet missed for OL.

Besiktas JK : Fabri – Gönul, Mitrovic, Tosic, Adriano (Beck, 77') - Hutchinson, Ozyakup (Necip, 94') – Quaresma (Arslan, 116'), Talisca, Babel – Tosun. Coach: Senol Günes.

OL : Lopes – Jallet, Nkoulou, Diakhaby, Morel (Rybus, 120') – Gonalons (cap.), Tousart, Tolisso – Cornet (Fekir,77') Lacazette (Ghezzal, 91'), Valbuena. Coach: Bruno Genesio.



...
Lyon hold their nerve on penalties and we have our final four!#UEL pic.twitter.com/8153exBfx1

— UEFA Europa League (@EuropaLeague) 20 avril 2017