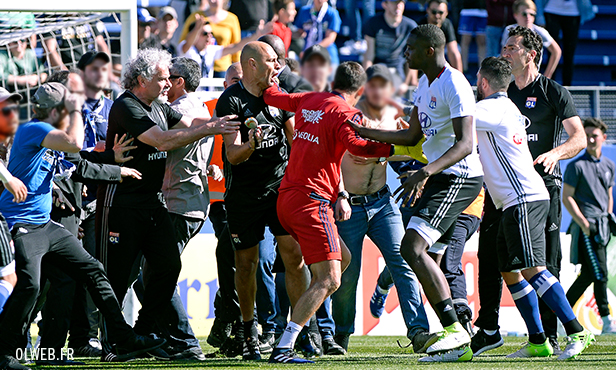 This Ligue 1 week 33 match between Bastia and OL was called at half-time: Lyon players were the targets of eruptions of violence both before the match and at the end of the first half.
The Lyon players have endured a rather strange week. A week that will live long in the memory, but not for positive reasons. A few days after the incidents that coloured the pre-match between OL and Besiktas at the Parc OL, Bruno Genesio's men underwent some terrible mistreatment during their trip to Bastia on Sunday afternoon. During the warm-up, they were the subjects of clear, violent aggression from the Bastia supporters, who had invaded the pitch to make trouble. Despite the shock to the Lyon players, who took some time to return to the idea of taking to the field again, the kick-off was delayed 50 minutes.
Des images choquantes, très loin du football qu'on aime tant... #SCBOL pic.twitter.com/DcenyFMSE4

— Olympique Lyonnais (@OL) 16 avril 2017
It was in this surreal atmosphere that the match started, at an understandably low tempo. A little distracted, the two teams had trouble settling into their respective games. Nothing much happened in the match before Amaury Delerue blew for half-time with the sides level and scoreless. Calm seemed to have returned during that first period of play… but as the teams took to the dressing rooms, brawling erupted once again with some fans and even some of the stewards getting stuck into the Lyon players. That was the breaking point: after a long wait, the LFP, who judged the violent actions to be 'unspeakable', took the decision to call the match off.
SC Bastia - Olympique Lyonnais définitivement arrêté. Communiqué de la LFP ➡ https://t.co/HUhXlxjxJ6

— LFP (@LFPfr) 16 avril 2017
...

. TEAM SHEET .

At the Stade Armand-Cesari in Bastia.
L1 (Wk33): SC Bastia-OL 0-0. Match called off at half-time.
Referee: Amaury Delerue. Attendance: 12000 approx.
Yellow cards: Mostefa (40'), Crivelli (44') for Bastia.

Bastia: Leca - Djiku, Coulibaly, El Kaoutari, Cioni - Cahuzac, Mostefa - Saint-Maximin, Ngando, Bengtsson – Crivelli. Coach: Rui Almeida.

OL: Lopes – Rafael, Nkoulou, Yanga-Mbiwa, Rybus – Gonalons (cap.), Darder, Ferri – Ghezzal, Memphis, Aouar. Coach: Bruno Genesio.



...