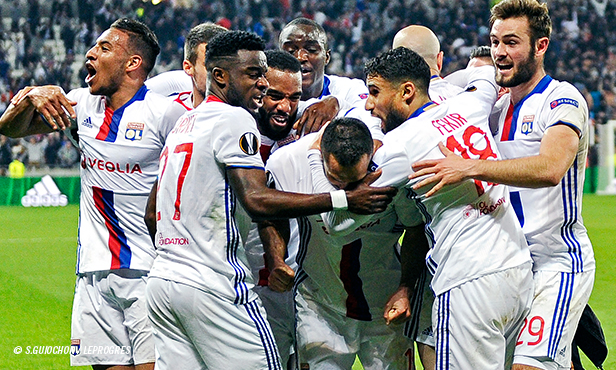 In an atmosphere as strange as it was stifling, OL spent a long time chasing the score but showed some exceptional qualities to turn the match around. Their two goals in the dying minutes put them in a good position ahead of the return with a slight advantage to qualify for the semi finals of the Europa League.
. HIGHLIGHTS .
4'. Lopes flings himself to parry Marcelo's shot. 13'. Lacazette's powerful strike hits the side netting. 15'. Babel's shot across the face of goal beats Lopes. 0-1. 19'. Fekir lightly deflects a shot onto the post. 48'. Talisca heads just wide. 56'. Fabri parries Valbuena's overhead kick. 64'. Shot from Valbuena goes just centimetres wide of the post. 71'. Lacazette fails to control his shot after getting around Fabri. 79'. Tolisso hits the post with his header. 83'. Tolisso pops up in the box to stroke home. 1-1. 84'. Morel dispossesses Fabri and scores. 2-1.
---
. SUMMARY.
After some crowd trouble and in a heated, stifling atmosphere, the kick-off was delayed for 45 minutes. Once the game started, Lyon began pressing hard, but the first moment of danger came in front of Lyon's goal where Lopes saved well. After an off-target effort from Lacazette, the OL keeper was unable to do anything about Babel's shot across the goal face that came after a free kick, confirming Lyon's nervousness in each dead ball situation. OL tried to put together a reaction but Fekir's effort bounced off the crossbar. Lyon, always looking vulnerable to the Turks in free kicks and corners, kept possession but struggled to create any real chances to equalise.
The second half began at the same pace… with plenty of OL possession and a dangerous Besiktas corner. Lyon showed a lot more attacking threat on Fabri's goal, with the keeper still being often employed. Valbuena's shot went only a few centimetres past the post… just like Lacazette's effort after he had gotten round the Turkish keeper. Lyon were putting a lot pressure on but Besiktas were holding firm a quarter of an hour from the whistle. It was then that Tolisso hit the post with his header… the same Tolisso who went on to equalise before Morel took advantage of a goalkeeping error to secure a win as deserved as it was unexpected. OL spent a lot of the match chasing the score but completely turned it around with a gutsy performance in a heated stadium. Their two goals in the final minutes give them a lot of hope and a slight advantage to qualify for the semis of the Europa League.
---
. TURNING POINT .
Two minutes of craziness... and of hope
It would've been really cruel to lose this match… But the two Lyon goals in as many minutes right at the end came after a long period of inefficiency and bad luck, and provide a good dose of hope ahead of the return leg in Istanbul. Fabricio, well assisted before the goals by his post and crossbar, was finally unable to withstand a frenzied Lyon, as Tolisso's equaliser demonstrated. The Turkish keeper was, however, clearly to blame for the winning goal Morel scored after poaching the ball. The 83rd and 84th minutes of this first leg played in a heated stadium completely changed the equation… we hope.
---
. IMAGE OF THE NIGHT .
During the explosive incidents in the stands a few minutes before kick-off, which was finally delayed for 45 minutes, and with the southernend fans having to take refuge on the pitch, Jean-Michel Aulas came down from the official tribune to try and calm things down. The OL president stayed in the stands along with the Lyon supporters for the whole first half in order to discourage further disruption and allow proceedings to continue.
---
. THE STAT .
17/21
Despite the two-to-one scoreline, this win does OL's history in European cups some good. That history has a mostly positive ledger, and therefore bodes well for the future, especially when they win away and at home in a two-leg elimination tie on the European stage. Since 1959, the year of their first European match, and before tonight's success, OL won 21 times when they played the first leg at home for a return of… 17 qualifications. In this same ledger, Lyon have been eliminated only four times: against Sheffield Wednesday in 61-62 in the round of 64 of the European Fairs Cup (4-2; 2-5), Bruges in 75-76 in the UEFA Cup round of 64 (4-3; 3-0), Werder Bremen in 99-2000 in the round of 16 of the UEFA Cup (3-0; 4-0) and Nicosia in 2011-12 in the round of 16 of the Champions League (1-0; 1-0 pens 4-3).

EXPERT EYE
Jérémy Berthod :
«We had to win to be in a position to qualify ahead of the return leg. We're satisfied but above all feel proud. There are many factors that could've gotten to the players but Lyon were very strong mentally. The crowd played their part as the twelfth man. This is more than just a win. We haven't qualified yet but when we see players give their all, we can say that we have a good chance of qualifying. Besiktas faded after their goal. We were superior both physically and technically. It will be different in the second leg.»
...

. TEAM SHEET .

At the Parc Olympique Lyonnais in Décines.
Europa League quarter final (1st leg): OL-Besiktas 2-1 (0-1)

Referee: Antonio Mateu Lahoz. Attendance: 55 452.
Goals: Babel (15') for Besiktas. Tolisso (84'), Morel (85') for OL.
Yellow cards: Rafael (18'), Lacazette (58'), Fekir (67'), Jallet (73'), Valbuena (80') for l'OL. Marcelo (21') for Besiktas.

OL: Lopes – Rafael (Jallet, 53'), Mammana, Diakhaby, Morel – Tousart, Tolisso – Ghezzal (Cornet, 52'), Fekir, Valbuena – Lacazette (cap.). Coach: Bruno Genesio.

Besiktas: Fabricio – Gönul, Marcelo (Inler, 87'), Mitrovic (Uysal, 64'), Tosic – Atiba, Ozyakup (cap.) (Arslan, 74') – Babel, Talisca, Adriano – Tosun. Coach: Senol Günes.



...