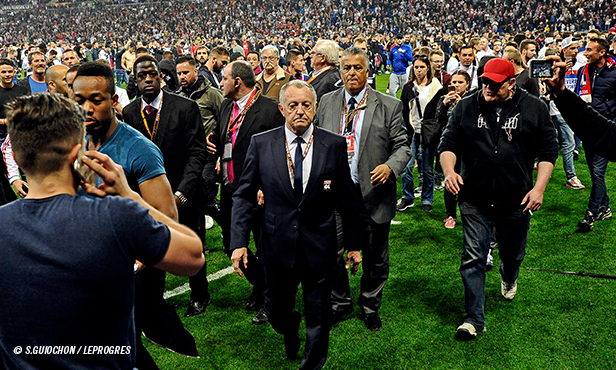 The OL president shared his thoughts with OLTV about the win against Besiktas as well as the pre-match incidents.
.@JM_Aulas est revenu sur cette soirée mouvementée où il a pris place aux côtés de ses supporters lors de la victoire @OL????????#matchOLTV #OLBES pic.twitter.com/F39YUdNKjS

— OLTV (@OLTV_officiel) 13 avril 2017
Jean-Michel Aulas
"When the country is in danger, it's up to the leader to react. There was fear and loathing among the fans because they had just been bombed by the Turkish supporters. They had no choice but to run onto the pitch. And just as well. It was up to me to take responsibility. Otherwise, I don't think we would've been able to play. French law doesn't allow refusal of sale. The Turkish fans organised themselves well to buy more seats than we'd bargained for. Some of them came from Germany and didn't need anywhere to stay. They were dangerous. The shop was damaged... Our players put in an excellent second half. We were rewarded and deserved to win. We played with heart. And now we have reasonable hope to qualify... The authorities need to ask some serious questions about the responsibility of the organisers. I have confidence in UEFA. Reason will prevail. I don't know if the return leg will have to be played behind closed doors. We're not too sure."