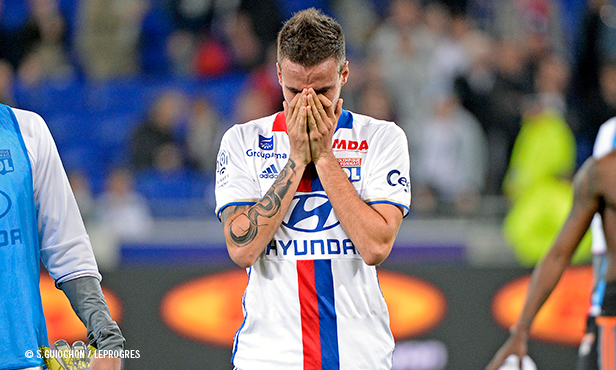 Having taken the lead, Lyon completely collapsed against the league's 19th team. It's a severe wake-up call five days out from their Europa League quarter final first leg at the Parc OL.
. HIGHLIGHTS .
15'. Close-range shot from Memphis crashes into Lecomte. 28'. Set up by Memphis, Tolisso's precise shot beats Lecomte. (1-0) 33'. Lecomte parries Tolisso's half-volleyed effort. 42'. Waris's curling shot levels the score. (1-1) 48'. Marveaux arrives in the area to beat Lopes. (1-2) 60'. Powerful shot from Fekir. Lecomte intervenes. 73'. Moukandjo finishes off a counter attack. (1-3) 80'. Moukandjo capitalises on a poor clearance to beat Lopes. (1-4)
---
. SUMMARY.
OL were pleased to be back home at the Parc OL, as they showed in the first minutes of play with their assaults on Lecomte's goal and their share of possession - 67% in the first quarter of an hour. Finally, in what was only the second real chance - just after Memphis had failed to slot past the keeper - Lyon lit up the stadium. Tolisso's perfectly placed half-volley found the bottom corner to secure his eighth league goal of the season. The lads thought they had gone a long way to getting the job done, but what seemed to be a step forward soon showed itself to be a false note…
Once again, the fans were disappointed just before half time when Waris equalised with a magnificent curled shot (1-1). Soon after returning from the dressing rooms, Marveaux took his turn at undoing the Lyon defence to put his side into the lead (1-2). Nabil Fekir, Corentin Tolisso and Alex Lacazette took turns at attempting to draw their side level but each time they came up against a big-match keeper in Lecomte. By the end, the visitors had aded two more goals from Moukandjo to inflict Lyon's heaviest defeat at the Parc OL (1-4). A grim evening that obviously doesn't set Lyon up well for their Europa League quarter final against Besiktas.
---
. TURNING POINT .
The 2-0 chance on the tip of Maxwel Cornet's toes...
Lyon began to be thwarted after Tolisso had opened the score (28'). But they could have reinforced their lead soon after that first goal if Maxwel Cornet had managed his effort slightly better. In the 31st minute of play and from a build-up down the right, Jordan Ferri put in a strong cross just in front of goal. The Lyon forward threw himself in, tackled and missed the goal despite being absolutely free. There's no doubt that things would have been different had he scored.…
---
. THE STAT .
200
The number of matches Alexandre Lacazette has played in Lyon colours. A little less than seven years after professional debut (5 May 2010 against Auxerre), the club's lead striker notched up his 200th match at the highest level for Lyon, taking his total matches to 268 in all competitions combined.
EXPERT EYE
Jérémy Berthod :
"The aim of this match against Lorient was two-fold: to get the points to shore up fourth place and to prove themselves solid in order to prepare for the Europa League quarter final against Besiktas. Tonight, neither of these things were achieved. Today was a day of going without and it's a bit hard to understand because we had the match in hand. The equaliser before the break undid us, as did the second goal after it. I hope that this is just a hiccup and that we bounce back on Thursday."
...

. TEAM SHEET .

At the Parc Olympique Lyonnais in Décines.
L1 (Wk32) : FC Lorient-OL 4-1 (1-1)
Referee: Nicolas Rainville. Attendance: 35 596.
Goals: Tolisso (28') for l'OL. Waris (42'), Marveaux (48') and Moukandjo (73' and 80') for FC Lorient.
Yellow cards: Rafael (12'), Fekir (44') and Mammana (82') for OL. Lautoa (39') for Metz.

OL: Lopes – Jallet, Mammana, Yanga Mbiwa, Rafael – Ferri (Lacazette, 63'), Gonalons (cap.), Tolisso – Cornet (Valbuena, 64'), Fekir, Memphis. Coach: B. Genesio.

FC Lorient: Lecomte – Moreira, Peybernes (Touré, 46'), Ciani (cap.), Le Goff – Moukandjo, Lautoa (Wakaso, 74'), Mvuemba, Marveaux – Aliadière (Jeannot, 46'), Waris. Coach: Philippe Hinschberger.

...