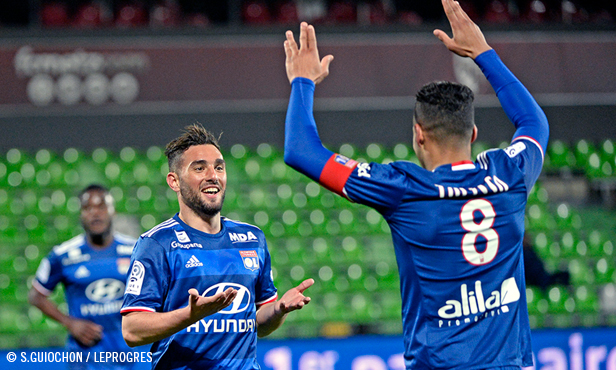 In this replayed match from week 16, OL rediscovered what it's like to win away when they scored three unanswered goals at the Saint-Symphorien stadium behind closed doors.
. HIGHLIGHTS .
7'. Mandjeck misses his header in front of an empty goal.
23'. Fekir's powerful half-volley hits the crossbar.
46'. Diakhaby's close-range shot from a corner goes just wide.
56'. Nguette's powerful shot doesn't trouble a well-placed Lopes.
58'. Lacazette side-foots past Didillon to open the score. (0-1)
68'. Tousart's potent effort goes over the bar.
87'. Ferri dinks over the keeper to double the tally. (0-2)
88'. Lopes keeps out a Hein shot headed for the top corner. 90'. Tolisso seals the match's fate with a first-time side-footed shot. (0-3)
---
. SUMMARY.
In the peculiar atmosphere of an empty Saint-Symphorien stadium, Lyon took their time getting into the match. Like in the first meeting this season between the two on 3 December, the first half hour went the way of the hosts, who were clearly the more threatening. Lyon then managed to take the danger to the other end and came close to opening the score via Diakhaby just before the break.
The second half saw an uninterrupted domination on the part of the visitors. Playing higher up the pitch, they opened the score on the hour mark through Lucas Tousart's setting up Alex Lacazette with a clever pass. This goal did Lyon the world of good and Nabil Fekir and Christophe Jallet then took turns in coming close to doubling the lead. It was finally the substitutes who took charge towards the end of the meeting, with Jordan Ferri and Corentin Tolisso being on the end of some good teamwork. With this 17th win of the season, OL tighten their grip on fourth place and widen the gap below them, with Olympique de Marseille now seven points behind.
---
. TURNING POINT .
Lacazette's opening goal unleashed his team mates...
Shuvved around in the first half, Lyon were looking forward to half time. But after Alexandre Lacazette opened the score on the hour mark, Lyon brought the ball forward better and created plenty of chances. In notching up his 24th league goal of the season, Lyon's main striker took his total to 30 in all competitions combined, and is now one goal away from his highest season tally of 31 in 2014-15. Seven rounds from the end of the season and while Lyon are still in the Europa League, Alex Lacazette is better placed than ever to break his own records.
---
. THE STAT .
1
OL have earned their first away league win in 2017. After six trips without a single victory (two draws, four losses), Lyon put an end to this long drought that began after 18 December when they won 1-3 at Monaco. They will now be able to approach their three remaining away fixtures - Bastia, Angers, Montpellier - with cooler heads.
EXPERT EYE
Arnaud Rivenet :
This was a peculiar match without much of an atmosphere; it was hard for the players to get into the swing of it. These three points are good news. They're a bonus that provide a welcome buffer for fourth place and should restore some calm for the last part of the season. However, the season is far from over. It was all well to beat Metz, but we need to do a lot more against Besiktas next week."
...

. TEAM SHEET .

At the Stade Saint-Symphorien in Metz.

L1 (Wk16 replayed) : FC Metz-OL 0-3 (0-0)

Referee: Ruddy Buquet. Attendance: closed doors.

Goals: Lacazette (58'), Ferri (87') and Tolisso (90') for OL.

Yellow cards: Mollet (4'), Philipps (36') and Mandjeck (76') for FC Metz. Diakhaby (57') for OL.

FC Metz: Didillon – Balliu, Milan, Falette, Signorino – Mandjeck, Philipps (Mathis, 73') – Mollet, Cohade, Lejeune (Hein, 67') – Nguette. Coach: Philippe Hinschberger.

OL: Lopes – Jallet, Diakhaby, Mammana, Morel – Tousart, Gonalons (cap.) (Ferri, 85') – Ghezzal (Cornet, 78'), Fekir, Valbuena – Lacazette (Tolisso, 85'). Coach: B. Genesio.



...