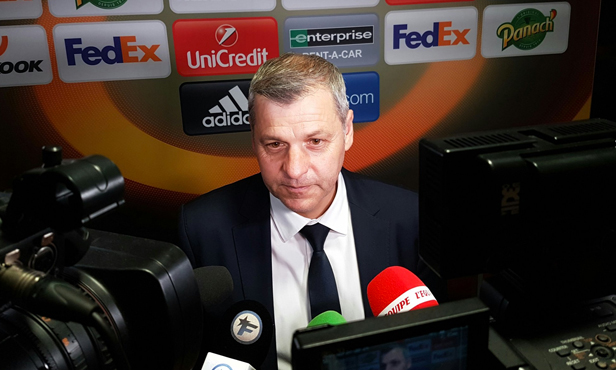 The Lyon coach and his players took turns at the OLTV mic to share their thoughts after qualifying for the Europa League quarter finals.
Bruno Genesio
"The match seemed to drag on. Even if we scored early on, we conceded the equaliser too soon. It took a lot of team spirit, a lot of courage.
We had what it took and we had a very talented goalkeeper. Everyone should be proud. Being able to hold out like that is key to playing at this level.
"We didn't get everything right. After the draw, not many people thought we could eliminate them. We're very proud. I'm proud of all my players and my staff, who all played a part in this win. We're aiming to go a long way. We want to keep this journey going. We'll be tested all over again in the next round. But we need to get back into the fold because there's a bit of a match at the Parc on Sunday. We need to keep this qualification in perspective because we haven't won anything yet… I'm disappointed for Alex because he's made every effort to get into the France team. His best response would be to carry on as he has been."
La réaction de notre coach Bruno Genesio ! #matchOLTV #RomaOL pic.twitter.com/poufVN0mAe

— OLTV (@OLTV_officiel) 16 mars 2017
Anthony Lopes

"I did my job. The team is the man of the match. We all did our bit to qualify. The team was massive tonight. I enjoyed it, it's always nice to make it through the big games. This is a big win because a lot of people didn't see us getting past this tie. It's good. We need to look ahead and focus on the match against Paris on Sunday. We'll see if we get a slightly better draw tomorrow."
La réaction de l'homme du match... notre gardien, Antho Lopes ! #matchOLTV #RomaOL pic.twitter.com/E8XYuqpl4Z

— OLTV (@OLTV_officiel) 16 mars 2017