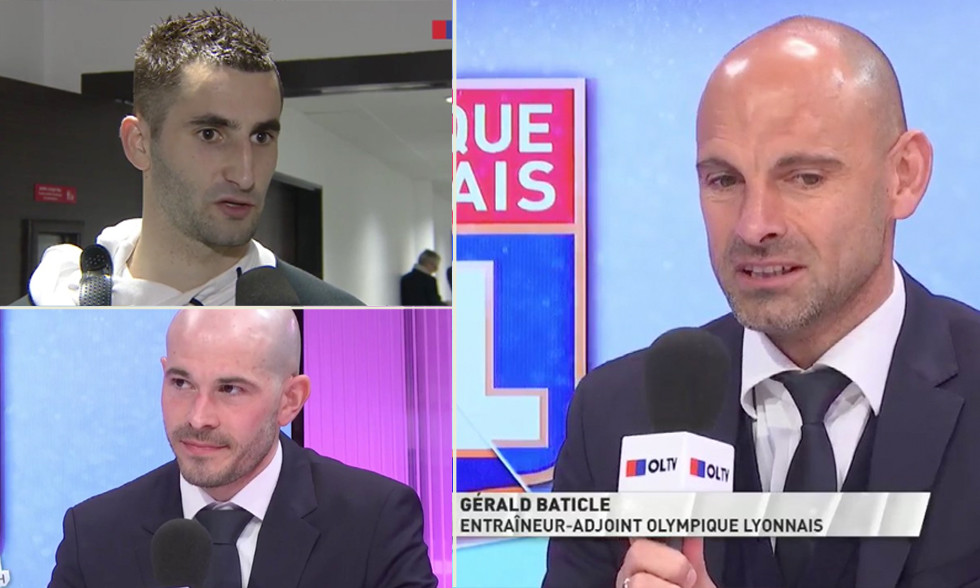 Bruno Genesio's deputy and his players stopped by the OLTV mic to share their thoughts on their win over Toulouse.
Gérald Baticle
"This is a great evening. But it's never perfect. We were the lesser team in the first half, but we managed. Things could've gone completely differently. Normally, there are no injuries. We stayed fluid and kept a positive outlook both in attack and defence. This is a good way to prepare for Roma. Bruno knew he wouldn't play that same team he did on Thursday but he had a wonderful alternative in mind. We needed to freshen the squad. So tonight we wanted to field a balanced team with a maximum number of fresh players... It wasn't that we were worried about being sluggish after the win against Roma, it was rather a case of cautiousness. We were motivated to do well. Confidence is paramount for every player but it's a delicate balance to keep because we can easily tip it over into excess... Everyone answered the call because we talked about it a lot in training... We always take it one match at a time, going forwards. We have a small but fairly comfortable lead for fourth place... Memphis hasn't surprised us because he has worked hard. We've gradually given him more playing time. He has a certain power, a strong impact, a big presence in front of goal. He can become an even more effective player."
La réaction de @MaxGonalons après la victoire de l'@OL sur Toulouse????????#matchOLTV pic.twitter.com/WXbBEo8GuG

— OLTV (@OLTV_officiel) 12 mars 2017
Maxime Gonalons
"There were two situations where they didn't quite manage to score. But despite our being sluggish at the start of the match, we deserve the victory given the match as a whole. The coach insisted that we remain humble when going onto the field and what we showed today bodes well. Those who have had less playing time were a good example tonight. They're good guys, they're talented and we saw that today. This is a good afternoon's work. And now we have to go to Rome to qualify."
???? La réaction de @Memphis après son incroyable but !! #OLTFC pic.twitter.com/UXwCsrinja

— Olympique Lyonnais (@OL) 12 mars 2017
Christophe Jallet
"Memphis's goal was amazing. It showed a great goal-scoring instinct. For me, this is my first goal with my right foot and at the Parc OL. On the bus, I thought to myself that this was my day. I'm going to have a baby so I made a little dedication in my celebration. The luck went our way in this match. That hasn't always been the case this season. The wheel turns around and it works out in the end. And we took advantage of the space they gave us in the second half. Now we need to set our sights on third place. We have the quality to take maximum points by the end of the season, we showed that last year. We've rediscovered our offensive prowess and our enjoyment of the game. We've overturned the chaotic dynamic we had at the start of the season. Our destiny's in our hands but to avoid regrets we need to put in huge performances. There's plenty of competition and I'd like to congratulate the players who don't start regularly and who answered the call today. We're all on the same side."
Pour #OLTV, Christophe #Jallet est revenu sur son speech à la mi-temps de Lyon - AS Roma????????#matchOLTV pic.twitter.com/XUT5r9EHHC

— OLTV (@OLTV_officiel) 12 mars 2017