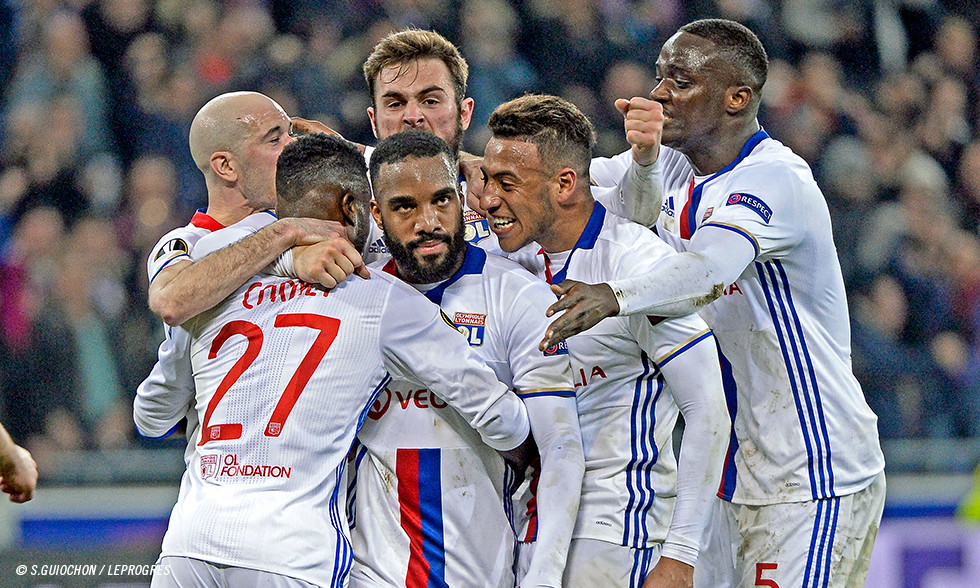 OL inflicted a four-two win on Roma in a pulsating match that had the feel of a grand European footballing night. Behind at the break, Lyon turned things around thanks to a remarkable second-half performance. The return leg takes place in Rome in a week's time.
. HIGHLIGHTS .
5'. Lopes diverts Nainggolan's powerful shot.
8'. Diakhaby scores from a Valbuena free kick flicked on by Rafael. 1-0.
20'. Salah takes advantage of Diakhaby's slip and takes off on his own to equalise. 1-1.
31'. Lopes saves well from Strootman.
33'. Fazio heads in. 1-2.
47'. Tolisso scores with a powerful shot from the edge of the area. 2-2.
50'. Huge save by Lopes to deny Strootman's shot.
65'. Gonalons' deflected shot is parried by Alisson.
69'. Alisson saves shots from Lacazette then Valbuena.
74'. Fekir scores after delightful dribbling in the area. 3-2.
88'. Tolisso's shoots just wide of the post.
90+3'. Lacazette scores with a stunning strike. 4-2.
---
. SUMMARY.
In a heady atmosphere befitting this high-end European fixture, Lyon were looking to take the advantage before the return match in Rome. Even if it was the Italian side who threatened first with efforts from Nainggolan and Salah, it was Bruno Genesio's men who managed the breakthrough in the eighth minute. From Valbuena's free kick, Diakhaby slammed the ball into the net. The Lyon central defender was then unfortunate when he slipped and could only look back as Salah took off on his own towards the goal. The Romans had clearly taken the situation in hand and Fazio's headed goal underlined their domination at that point. OL tried to come back before the break...
But it was just after the interval that they found a way through, thanks to a powerful shot that flew off Tolisso's right boot. While Lopes vigorously kept the Lyon goal secure, his teammates intensified their pressure on Roma's, but Alisson was also having a blinder. While Roma and Salah were always threatening on the counter, their keeper pulled of miraculous saves to deny Ghezzal, Gonalons, Lacazette and also Valbuena. It took an incredible sequence of skill from Fekir, having only just come on, to break through the last Roman barrier and deliver his side the lead. But Lyon didn't stop there and Lacazette launched a missile into Alisson's top corner in added time to add to his side's buffer ahead of the return leg in Rome in a week's time. An historic night!
---
. TURNING POINT .
The introduction of an uncontainable Fekir
His teammates had been battering away at the Roman keeper for more than 20 minutes when Nabil Fekir entered the arena: to change the course of history and demolish the Italian team's last barrier. The Lyon number 18, who went on in the 71st minute, didn't need more than three minutes to lead the Roma defence a merry dance before releasing a precise shot into the far bottom corner.
---
. THE STAT .
1
The Parc OL doesn't have much of a history with the European Cup, but this fifth continental match at the stadium will live long in the memory. With this 4-to-2 win against AS Roma after coming from behind, OL have given their new home its first prestigious win, with the crowd more than up for the occasion. At the Parc OL, Lyon now have a European ledger of three wins against Zagreb, Alkmaar and now Rome, one loss against Juventus and one draw against Sevilla.

EXPERT EYE
Jérémie Berthod:
"Let's enjoy this win before thinking about the return leg. We were deservedly behind at the break and the half time talk was effective. The players showed a lot of desire. Scoring four goals against Roma is no mean feat. There are many positives to take away from tonight. After the break, both our use of the flanks and our combination play down the centre were better. We managed to do everything we wanted to. This match may be the basis for the next. We were better than Roma. But we shouldn't think we're there until we arrive."
...

. TEAM SHEET .

At the Parc Olympique Lyonnais in Décines.
Europa League round of 16 (1st leg) : OL-AS Roma 4-2 (1-2)
Referee: Anthony Taylor (GB). Attendance: 50 000 approx.

Goals: Diakhaby (8'), Tolisso (47'), Fekir (74'), Lacazette (90+3') for OL. Salah (20'), Fazio (33') for Roma.

Yellow cards: Emerson (41'), Manolas (66') for Roma. Tousart (62') for OL.

OL: Lopes – Rafael (Jallet, 46'), Mammana (Fekir, 70'), Diakhaby, Morel – Gonalons (cap.), Tousart – Tolisso, Ghezzal (Cornet, 76'), Valbuena - Lacazette. Coach: Bruno Genesio.

Roma: Alisson - Manolas, Fazio, Juan Jesus - Bruno Peres, De Rossi (cap.) (Paredes, 82'), Strootman, Emerson - Salah, Nainggolan (Perotti, 85') - Dzeko. Coach: Luciano Spalletti.

...