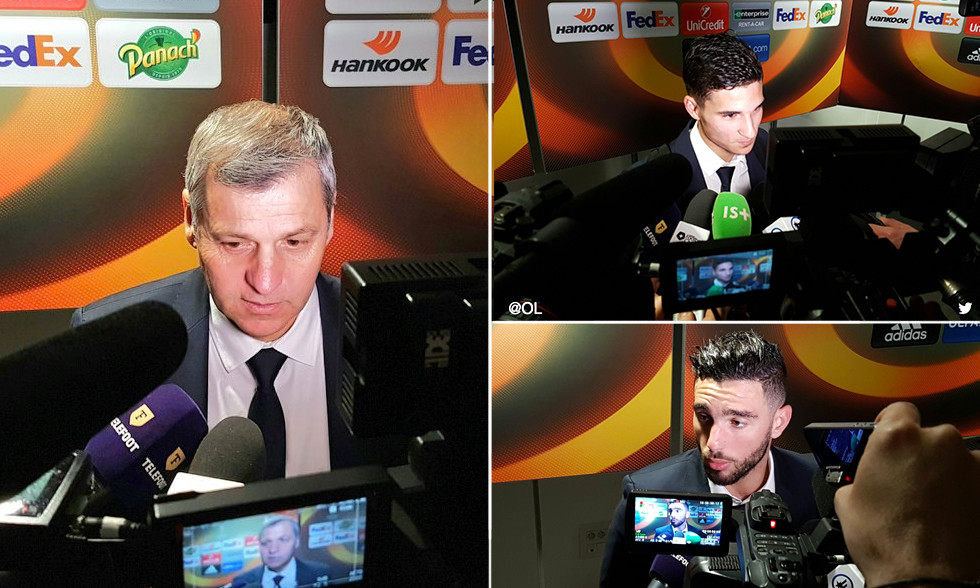 The Lyon coach and his players stopped by the OLTV mic to share their reactions after their big win against Alkmaar and the resultant qualification for Europa League round of 16.
Bruno Genesio
"I really liked our committed start to the match because it's never easy to apply yourself like that given the situation. We saw some good passages of play. The players and the public really enjoyed themselves. It was nice. We were conscientious and professional. The players who don't play regularly met my expectations... Fekir was good, notably in his defensive responses. He has what it takes to play up front, like he did this evening. Aouar made a good showing. It's good for the confidence. We need to get a run going... Any negatives in the evening? We conceded some very clear chances in the second half. We need defensive solidity to string wins together... Morel felt some pain at the back of his thigh. Nothing major but it will be tough for the match on Sunday. Rafael held the line well on the left. It's an extra option... A round of 16 against in Manchester would be a good tie. We'll take whatever comes because we're not in control."
Sergi Darder
"There are still some really good teams in the competition. Every match will be difficult. But it would still be good to avoid Manchester United... We had already done everything in the first leg. It was necessary to play tonight and take some confidence away. Those who are usually substitutes had a lot of desire tonight and that made the difference... It's important to not concede a lot of chances. The defensive aspect is a problem for the whole team. We need to work together... Your goal? It was the first touch that made the difference. That's how I play. I'm very pleased to score and to get an assist."
Anthony Lopes
"We ensured the game wasn't pressured. We had to be conscientious to get the job done and respect our opponents. The goal we conceded is a bit hard to take tonight. I don't have any preference for whom we draw. We'll see tomorrow. We need to take whatever comes... I played with some special gloves on account of my injury and I didn't bend my finger. I had to keep it from moving at all."
Houssem Aouar
"To score here at Parc OL and in my home town is fantastic for me. I'm very proud because I did all my classes here. We get along well with the rest of the team, the other players have been very welcoming."