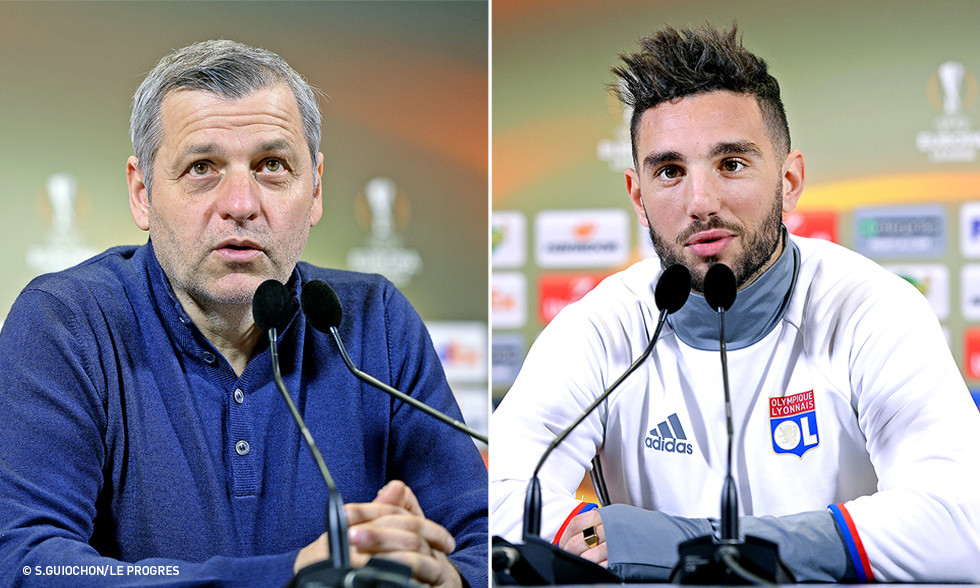 The Lyon coach and his midfielder talked to the media on the eve of the Europa League round-of-32 return match against AZ Alkmaar..
Bruno Genesio
"In football everything's possible. You need to be smart. We've taken a big step but we need to get ready to get the job done and qualify. I demand that my players are professional and that they persevere to the end to win confidently and prepare for the end of the season. This match will allow the players with less regular playing time to show their quality. There will be some changes. We will have a worthy opponent who are fit. They will come here without fear, they'll completely free given the result of the first match. We have to be solid, a little like against Dijon where we struck a good balance in the game. We have to show that we've made progress with our defensive solidity but we have a defensive pairing who are very young but who have reassured me in the last few matches...
"Rafael has come back from injury and is pushing for a place in the squad. On the other hand, it will still be just for Mathieu (Valbuena). He may play against Metz. As for Maxime (Gonalons), he understood why he came off against Dijon. He's going through a bit of a tough time. Our role is to help overcome these times. He is our captain, the heartbeat of the club and he has all our confidence. In the case of Jordan (Ferri), I've spoken to him several times. He shows an exemplary mindset both in training and when he goes on in a match. Competition is part of a career. It's something that will nourish it, even if it's tough at the moment. I count on him, even if it's not that evident."
---
Jordan Ferri
"In the coach's talk tomorrow I'll find out whether or not I'll play. There will be a few changes from the last few line-ups. It's good to get everyone involved and to show that OL has a large squad to draw upon. Time always seems to drag when you don't play. But you have stay involved and answer the call when it comes to getting a result or maintaining one. I don't regret having stayed here during the winter transfer window. I didn't want to rush into any decisions and I had it firmly in mind to finish the season because I wouldn't want my OL journey to finish like that...
This is a competition that I hold dear. It's where I started and where I had the most playing time in my early days. We've had some good times in this competition. At the club and in the team, we don't want to neglect it... We'll try to get solid defensively and give ourselves security. We know that we'll have chances and that we have the forwards to convert them... We're committed to digging deep together. I don't know what will happen in the transfer period. Only time will tell...
We know that football goes in cycles. It may be that at the end of this season, another page will turn over, we don't know, though. The club relies heavily on the players who have been so well developed here. We'll do everything to keep making magic moments. It's always tough when you don't get much playing time. I do sessions with the trainer. I work train on my own to stay ready for when the coach calls on me."