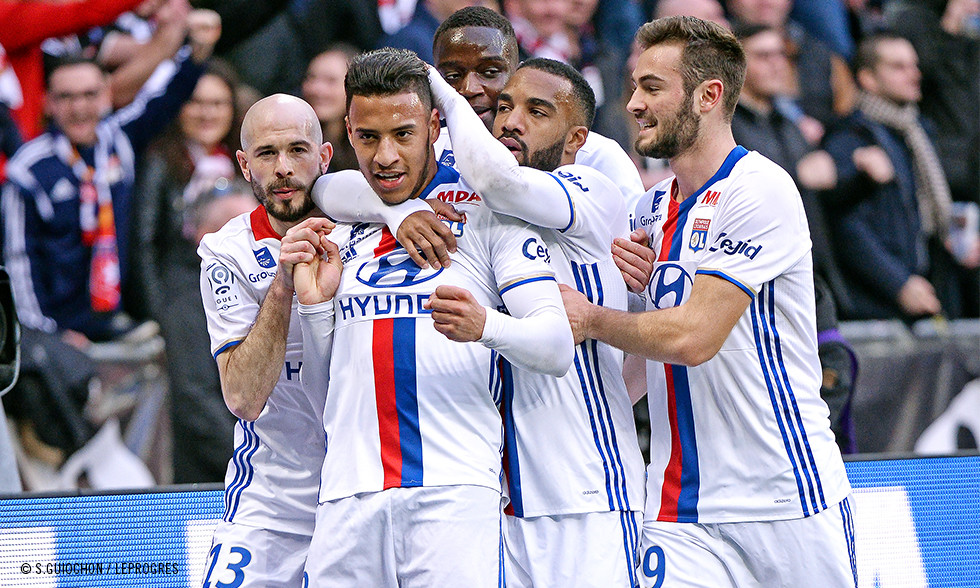 OL have snatched a deserved four-two win against Dijon. Dominant for the most part, but unable to convert their chances, Lyon turned things around in the dying moments to undo Dijon after Lyon had taken an early lead when they opened the score. The win is Lyon's second in a row.
.HIGHLIGHTS .
10'. Memphis's superb curling effort is turned away by Reynet.
11'. Tolisso scores after a defensive mix-up in the box from a corner. 1-0.
30'. Tavares scores with a header from Balmont's cross. 1-1.
31'. Memphis misses a huge chance.
39'. Reynet denies Lacazette twice in quick succession.
42'. Memphis's shot misses by centimetres.
48'. Diony scores after Lyon lose possession in their own third. 1-2.
51'. Lacazette hits the post.
70'. Reynet turns Tolisso's shot away.
80'. Tolisso scores with a shot from the edge of the area. 2-2.
84'. Lacazette scores from the spot. 3-2.
90'. Fekir scores with a deftly stroked shot. 4-2.
---
. SUMMARY.
After a win on the European stage, OL needed to reassure themselves in the league. It was therefore with grit and determination that they started off pressing hard on the day's foe. They were rewarded after ten minutes of play with a goal from Tolisso resulting from a corner, obtained when Reynet turned away a shot from Memphis, who was full of running. In one of Dijon's rare chances, Tavares re-exposed Lyon's defensive difficulties with a mere kick of the ball. Lyon's reaction wasn't long in coming, but Memphis missed the frame of the goal twice and Lacazette was denied three times by a keeper on fire. Lyon's finishing accuracy, ruthless on Thursday, seemed to have deserted them in this first half.
Dijon didn't seem to have the same problem today... After Gonalons lost the ball, Diony shot past Gorgelin to put his side ahead. Lyon again reacted strongly but the difference in efficacy between the two teams was even more striking when Lacazette's close range shot grazed the outside of the right post while Memphis's goal was disallowed for offside. Lyon's threat nonetheless increased... But Memphis, Ghezzal, Lacazette and Cornet all failed to convert. But not Tolisso, who knew the route to goal. With a long-range effort, he pulled his team back into the match ten minutes from time. Soon after, Lacazette converted a penalty before Fekir cemented the Lyon win. It was a deserved victory given Lyon's performance and is their second successive in all competitions.
---
. TURNING POINT .
Wasted chances before the goalfest began
33 - @OL a tenté 33 frappes v Dijon aujourd'hui, record pour une équipe en L1 depuis Paris face à Ajaccio en août 2013 (35). Assaut.

— OptaJean (@OptaJean) 19 février 2017
Corentin Tolisso showed the way today. While his teammates kept coming up against the brick wall that was an inspired Reynet, and while they lacked the precision required in front of goal, Tolisso, having already scored, once again broke through the Dijon defence with a powerful shot ten minutes from time. This equalising goal to make it two-two did the world of good for a Lyon team struggling with the self-doubt borne of an efficacy that was there in spades on Thursday but missing since the 15-minute mark of this match. It wasn't for lack of trying, because Lyon had 33 shots with 13 on target... 'Coco' had the formula. Lacazette then Fekir followed his example soon afterwards to seal a deserved win!
---
. THE STAT .
2
OL finally start putting a streak together! Three days after the European success at Alkmaar, Lyon had a good chance to string wins together. It's a mission they finally accomplished with this four-two win against Dijon in the league. Bruno Genesio's men haven't managed back-to-back wins since the stat of 2017: a loss at Caen after the in the Coupe de France against Montpellier, a setback against Lille after the win against Marseille and a defeat at Guingamp after overcoming Nancy away. A run in all competitions combined that they now need to reproduce in the league in order to remount their bid for a top-three place.
Expert Eye
Jérémy Berthod
"We were scared. We would've been frustrated with a loss and wouldn't have understood how we could have lost this match. All the players showed great determination to score. We saw a good OL team. The only drawback is the lack of chances converted, but the team spirit was really good. The win is well-deserved. While we were behind, we immediately looked to turn things around. Mentally,  this type of performance does us a lot of good."
...

. TEAMSHEET .

At the Parc Olympique Lyonnais in Décines.

L1 (Wk26): OL-Dijon FCO 4-2 (1-1)

Referee: Benoît Millot. Attendance: 35,197.

Goals: Tolisso (11', 80'), Lacazette (84', pen.), Fekir (90') for OL. Tavares (30'), Diony (48') for Dijon.

Yellow cards: Mammana (70') for OL. Balmont (55'), Haddadi (57'), Amalfitano (66'), Tavares (83') for Dijon.

OL: Gorgelin – Morel, Diakhaby, Mammana, Jallet – Gonalons (cap.) (Fekir, 70'), Tousart, Tolisso – Ghezzal (Cornet, 75'), Memphis, Lacazette. Coach: Bruno Genesio.

Dijon: Reynet – Haddadi, Lotiès, Varrault (cap.), Lang, Chafik (Bela, 86') – Marié (Amalfitano, 46'), Belmonte (Kwon, 78'), Balmont – Diony, Tavares. Coach: Olivier Dall'Oglio.

 

...