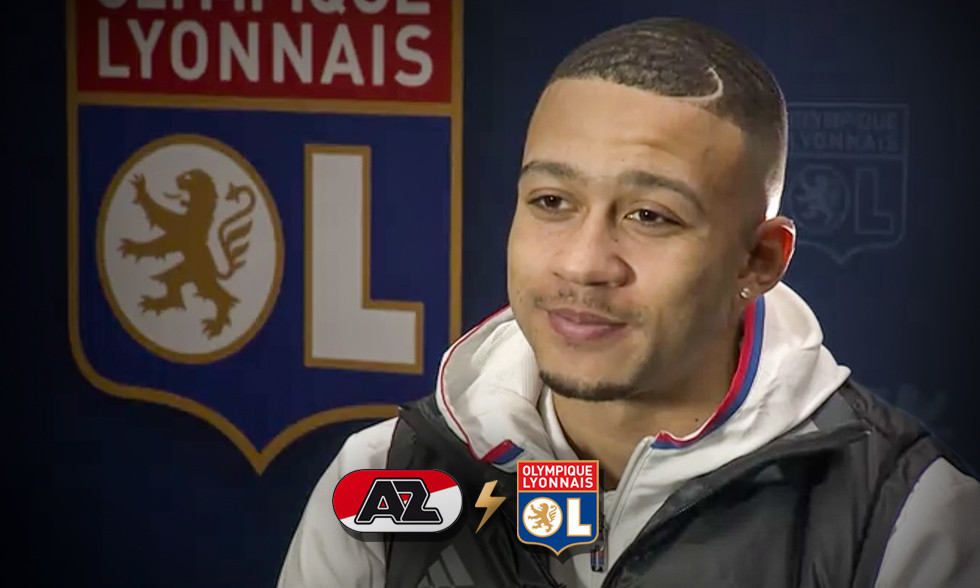 Memphis Depay shared his thoughts with OLTV in the lead-up to his team's match against AZ Alkmaar in the Europe League this Thursday. It's a competition he won't be able to participate in but one he'll follow keenly.
Last Wednesday, you scored your fist goal in Lyon colours in a tough atmosphere. How did you feel ?"
"I was very happy. I think that it was a good result (a 4-0 win against Nancy). That's about as much as I have to say about it. But we need to continue in that way."
The shirt in which you scored that goal will be shown in the club museum. That shows how much people here rely on you...
"It's an honour for me to have my shirt in the museum. The fact that people will be able to see it in ten years' time, as a piece of club history... We'll have to wait a few years before that but, honestly, it's an encouraging sign."
You signed for Lyon three weeks ago. How have you been fitting in, both on and off the field?
"It's really gone well. Everybody has been very kind to me and has helped me to settle in. On the field, I try to fit in with the team, with their playing style, and I try to build an understanding with my teammates. Things are going really well."
Have you also managed to settle into Lyon the city?
"I been looking every day for a place to live in but, at the moment, I'm still living at a hotel. On the other hand, I've been able to go out to restaurants and I've really liked them."
Next Thursday, OL will play in the Netherlands, in your home country, against AZ Alkmaar in the Europe League. In France, we hear a lot about Ajax Amsterdam, PSV Eindhoven and Feyernoord Rotterdam, but we don't know much about any other teams. What can you tell us about Alkmaar?
"I've played against them a few times. They're a good team in the Dutch league but they're not in the top three. We therefore need to go there looking for a win."
Do you have any memories of meetings against Alkmaar?
"I remember well, in my last season at PSV, we played against them on my birthday. We won but I didn't score. Today, it's up to us to win there."
You also scored with a free-kick against them...
"Yes, I remember. It was a few years ago (in September 2013). As I recall, I hit it pretty well (laughs)."
Do you know any players from AZ Alkmaar?
"Not personally. I'd have to think about it but I don't think so. I don't really know their squad. Maybe I know some names..."
There's Tim Krul, the goalkeeper...
"Yes, for sure. I believe he's on loan there. I know him well. I played with him in the national team, most notably in the World Cup (in 2014, in Brazil). He's a good guy and a good goalkeeper."
What are the characteristics of Dutch football? Is there a real difference between it and the French league?
"Each team tries to play football from the back. It's part of the Dutch culture to start from the back with the ball, in order to build properly. It can't be compared to Ligue 1. It's a much faster game here and is much more physical."
What about Dutch fans? Do you think they'll influence the game on Thursday?
"All fans try to have an impact on the game, by providing all the support the team needs. But when you play for a big club like Olympique Lyonnais, we just need to think about going there and winning, whether there is pressure from the fans or not."
How are Ligue 1 and OL viewed in the Netherlands, apart from the seven consecutive league titles?
"I don't know. I think that the experts know that Ligue 1is full of fast, physical players. If they look at our team, they'd see that it's full of quality. Alkmaar will surely take this into account when they face us. They know that we can be very dangerous and they'll have to adapt to our style of play."
Do you think that OL can go far in the Europa League?
"Yes, I'm 100% sure. We can go far in this competition."
On Thursday, there will be another match, between AS Saint-Etienne and Manchester United, your old club. Will you watch it?
"No. I'll be watching my team. It's a real shame that I can't play in the match against Alkmaar because I didn't play much with Manchester this season, in the Europa League. I have to accept the rules and support my teammates."
Finally, what advice do you have for your teammates in facing AZ Alkmaar?
"I will tell them to play as best they know how. By being aggressive in winning every ball and winning this match."