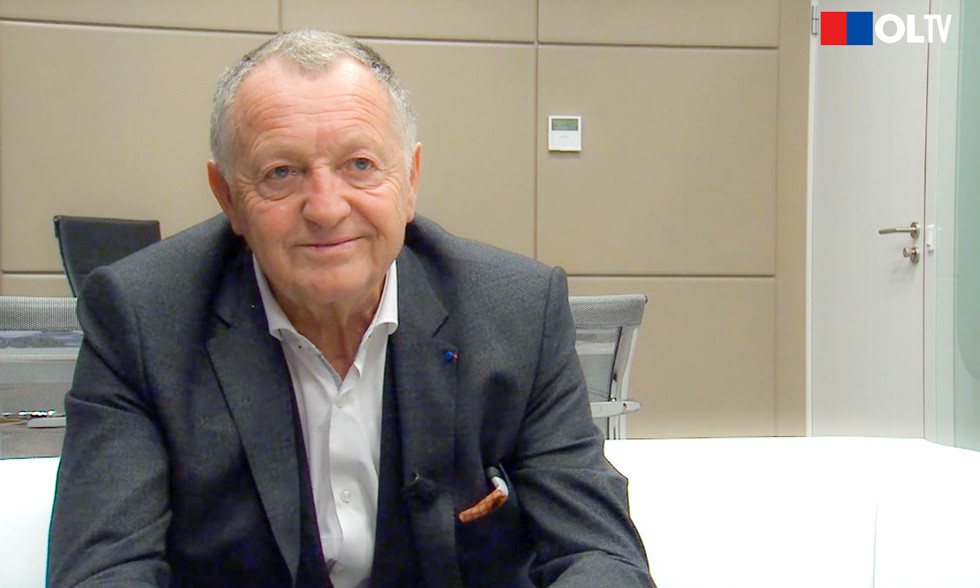 On Monday, the Olympique Lyonnais president gave an exclusive interview to OLTV and OLWEB.FR, talking at length about the talking points from the derby as well as Wednesday's match against Nancy.
The derby defeat
Since I assumed my role as president in 1987, there have been 46 derbies and we have won a lot of them. This is just my eighth defeat against ASSE. There is great sadness because losing at the Geoffroy-Guichard is always awful. It's a failure in sporting terms but we still have a lot of big matches to come. I know the players well and I know it must have been a nightmare for them. I can't believe that they didn't give everything on Sunday night. We're all suffering as a result, but it's only by sticking together that we will get back on track.
The red cards for Ghezzal and Tolisso
Before the match, Bruno insisted that the lads needed to put their bodies on the line but also to respect the rules of the game. When you get sent off, you penalise your whole team. We saw some things that we shouldn't have. In consultation with Bruno, we decided to punish our two players financially. I think the world of them, but they will be heavily sanctioned.
What Bernard Caïazzo had to say
It was a very serious and offensive insult from him. The (Saint-Etienne) players will sanction president Caïazzo, as he should never have said that. What's more, I helped him get into the Premier Ligue syndicate presidency. I find his words regrettable, and perhaps the disciplinary and ethics commission will get their hands on the recordings, as they were extremely offensive.
Support for Bruno Genesio
I think Bruno has been unfairly criticised. For me, he's the best-placed coach to lead us on to our objectives, which are, I remind you, to finish in the top three and to shine in the Europa League. It would be against the club's interests to make changes. We adapted our recruitment in the winter transfer window and it's not by giving up or criticising individuals that we will reach our objectives. We need to stick together. I want to support Bruno and give him the means to remain credible in the eyes of the players.
The announcement of Alex Lacazette's departure on Canal+
The timing of this interview on Canal+ was regrettable. That it came out on the day of the derby  shows a real lack of smarts on the part of the journalist. On the other hand, if Barça or Manchester United one day make an offer commensurate with what Alex is worth to our club, no-one will stand in its way… unless it comes in on the day of the derby.
Memphis Depay's adaptation
He's a player who hasn't played much of late. Bruno has a dilemma: start him when he's not at his best r use him as a sub and slow the whole assimilation process down. Bruno makes his choices as a function of sporting criteria. I know that his objective is to get Memphis to his very best as quickly as possible.
Nabil Fekir
Nabil is coming back after a tough period. It didn't go that well for him in Saint-Etienne, but it was the same for everyone. There were other players also not at the best. We have every confidence in Nabil. I'm disappointed for him, as I am for Mathieu Valbuena, who gave a lot. I discussed it with Bruno Genesio and he is aware that there are a number of adjustments to be made. It's important to be able to recognise when you make an error so that you can correct it the next time.
The 32-point challenge
Against Nancy, we will be looking to get ourselves back on track. I know that the fans are disappointed. I am too. We can express our discontent but you also have to know how to get over it at some point. We have some great matches coming up in the league and in Europe. We need to trust Bruno and focus on our upcoming challenges. The one we set ourselves after the defeat to Guingamp was achieved. Now we need to do well in the last 16 league matches. Right now we're on 37 points with a game in hand. If we can take 32 more points - n average of two per match - we can reach our objective and claim a place on the podium.
---
Click here to watch the full interview