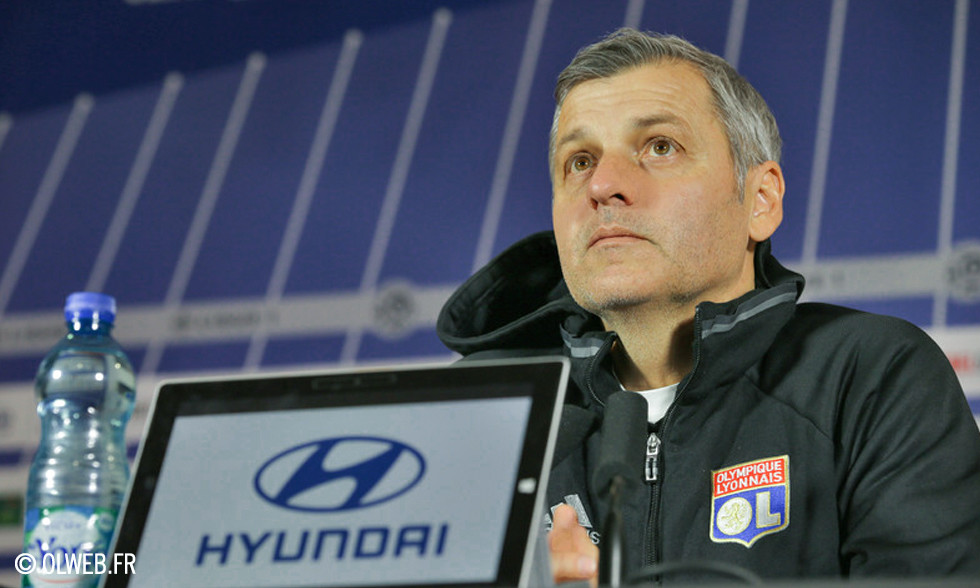 The Lyon coach was in the press room at the Groupama OL Training Centre on the eve of the trip to Marseille for the round of 32 of the Coupe de France.
FITNESS NEWS
"There are some after effects from the match against Lille. There are several players in doubt, including Alex Lacazete, who took a knock to the calf muscle. Rafael has a problem with his back. Mapou Yanga-Mbiwa is suspended. Maciej Rybus is also uncertain. We have enough players to field a team. At the back, we're a bit stretched with Mouctar Diakhaby's injury... We'll make some adjustments to the starting line-up in midfield and the forward line."
LOSING AGAINST LILLE
"That was a real kick in the teeth for our momentum which was stopped at the worst time. It's very disappointing because we knew that it was a very important match and the results confirmed that. We need to look ahead and rediscover our enthusiasm over a long run of matches."
IDENTIFIED ANY SYMPTOMS?
"We can lose matches but it's frustrating, we went from a strong performance against Marseille to a dour first half against Lille. My patience has its limits and at that point, my patience is exceeded. It's up to us to find solutions. Perhaps one would be to set up even stronger competition within the squad. I don't know if the players are complacent. We didn't get that sense before the match, there was no sign of slackness during the week's training. I don't think it's a case of our opponent's reading our game... We've dropped practically every point against the lower-placed teams, there's no chance when that happens. It has to be the result of an excess of confidence or a case of slacking off. I expect those who start tomorrow to live up to the high level of the club's aims."
MARSEILLE'S TEAM
"They will be a different team from the one we played a little while ago. They will have Vainqueur, Evra and maybe Payet. OM are better at home. I want us to give a better account of ourselves than we did in the first half against Lille. We are capable of posing them problems. We're going there to qualify. This is the most important thing about this type of match. We expect a tough meeting but I think we're strong enough to go through."
MATHIEU VALBUENA'S RETURN TO THE VÉLODROME
"He played well against Lille. Missing chances happens to everyone. He shouldn't be blamed. Nothing's easy in football. He already showed strength of character in facing the taunts of the Marseille public. I disregard that sort of factor when choosing my team."

MEMPHIS'S FIRST START
"His first performances have been encouraging. As I expected. It was tougher for him after the winter break because he's not fully match fit."
THE DERBY
"There isn't a hierarchy because both meetings are very important. The squad is deep and can handle these two deadlines. Our first aim is the Coupe de France and afterwards, we'll focus on the derby, which will be a very important match."
TRANSFERS
"I don't know whether any players will leave the club. Nkoulou is at the Africa Cup of Nations and for Rachid Ghezzal, it's no. We still have a day to assess the usefulness of bringing another player in."
---