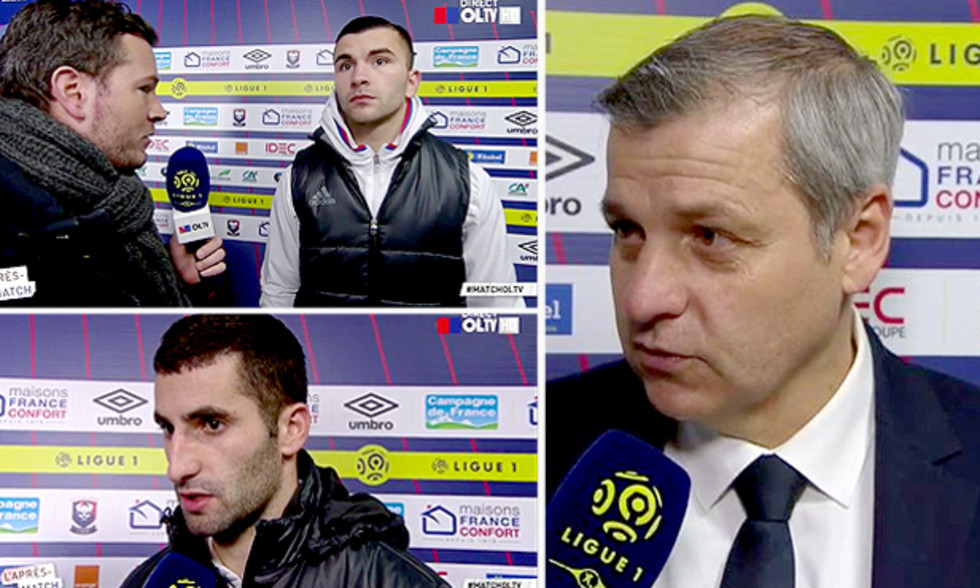 There were several comments from players and the manager for OLTV in the after-match telecast.
Bruno Genesio: Tonight, Caen played like we imagined they would. What we didn't imagine was that we would play poorly. We started playing when it was 2-0, before again failing to play at the start of the second half. We waited until it was 3-2 before we created chances. We need to ask why we don't do well against low-placed teams. It's not normal. We weren't mentally focused, as was evident in our challenging for the ball and in our general engagement. Mouctar went off in the first half because he got a knock to the ankle. We'll know more in the next few days."
Anthony Lopes: "When we take 30 minutes to get into the game, it's tough. We lose a great deal of points against low-placed teams. This might be what makes the difference with the teams ahead of us. We suffered a major setback tonight."
A.Lopes sur @OLTV_officiel "On perd beaucoup de points contre les équipes du bas de tableau. Il faut vite relever la tête" #SMCOL

— Olympique Lyonnais (@OL) 15 janvier 2017
Max Gonalons: "We failed in many areas, particularly technically; we were unable to move the ball up properly. They had more desire and more aggression than we did. We tasted this kind of disappointment at the start of the season in Dijon and in Lorient. If we want to reach our season goals, we need to win this type of match."
Rémy #Vercoutre: "Je veux le meilleur pour l'@OL. C'est mon club et j'espère vraiment qu'ils vont relever la tête par la suite." #matchOLTV pic.twitter.com/kA5s7zkNU4

— OLTV (@OLTV_officiel) 15 janvier 2017
Rémy Vercoutre: "On the whole, the result is a bit exaggerated. OL didn't necessarily deserve to lose. These matches are always a bit heartbreaking for me. I wish the best for OL and that the club manage a good second half of the season."