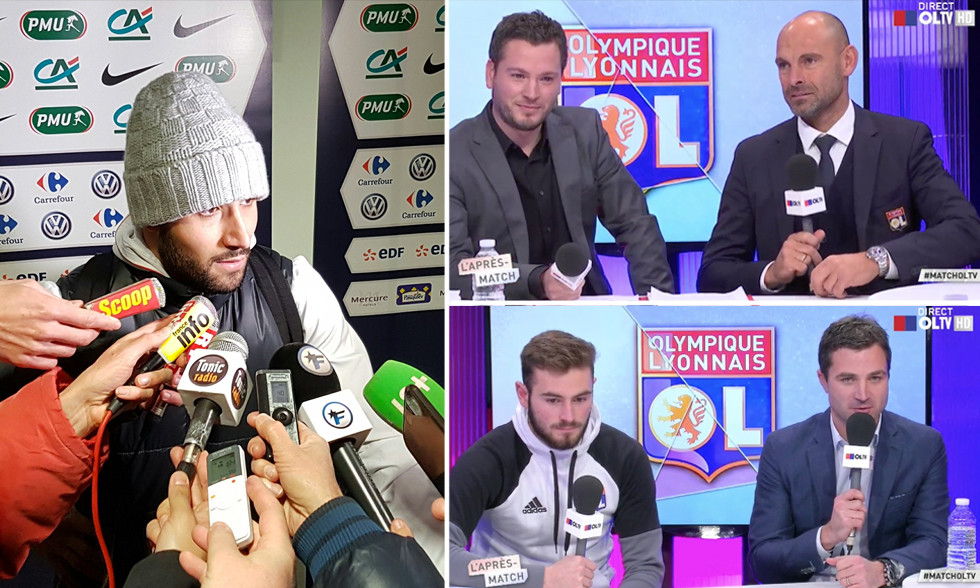 Gérald Baticle and the players stopped by the OLTV mic to share their thoughts on the win over Montpellier in the Coupe de France.
Alexandre Lacazette
"Our aim was to score quickly. We've started the year well, it's really good. It was an open match. With Nabil Fekir, things just keep getting better. The statistics made that clear tonight... We'll now concentrate on the league."
Gérald Baticle
"Nabil Fekir is doing well at the moment. He has worked hard to return to his physical best. He has found a good balance. He has refound his confidence, which he was lacking. The fluidity came back with Alexandre Lacazette and the other players. He can play in several different positions... The 4-2-3-1 system works well for us. We're solid defensively and dangerous going forward. We had a midfield diamond during the match and that also worked well for us. The work rate of the four forwards is very important... We will know after the match whether Marseille was a good team to draw. We've laid down a huge marker. The players are very pleased to have played a match of this quality."
Nabil Fekir
"We played a good match tonight. We scored five goals and we managed a clean sheet. It's good for our confidence and for our morale. We worked hard on winning the ball back and that paid off tonight. It gives us a good footing for the next match."
.@NabilFekir "Je travaille beaucoup pour revenir à mon meilleur niveau. Quand je suis sur le terrain je suis le plus heureux" #OLMHSC pic.twitter.com/TuWI4ens0Z

— Olympique Lyonnais (@OL) 8 janvier 2017
Maxime Gonalons
"We made it easy by scoring early in the game. We could've scored a few more. We enjoyed ourselves tonight. It's very satisfying. We've carried on our good form from 2016. This is only the start. We need to work hard to reach our goals... Playing alongside two excellent defenders allows me to go forward more. It's a position that I like."
Lucas Tousart
"We made the match easy from the start, but we remained focused for the whole game. This is very encouraging. We pressed very high up the pitch straight away. We knew we would have chances and we managed to score very quickly. We knew that Montpellier would have trouble controlling the space behind their defence. We worked on that and put pressure in that area. Our forwards shone but it was a true team effort... It will be a tough match in Marseille. But we're equipped to get a win at the Stade Vélodrome."
.@JeremyBerthod sur @lucas_tousart29 : "il sert à l'équipe. Ça ne se voit pas toujours mais il est important. Je l'apprécie !" #matchOLTV pic.twitter.com/3rjzhPVkxc

— OLTV (@OLTV_officiel) 8 janvier 2017
Maxwel Cornet
"We really enjoyed ourselves. It's a good way to start this competition. We need to take note of what we did right for next weekend and build on our momentum."