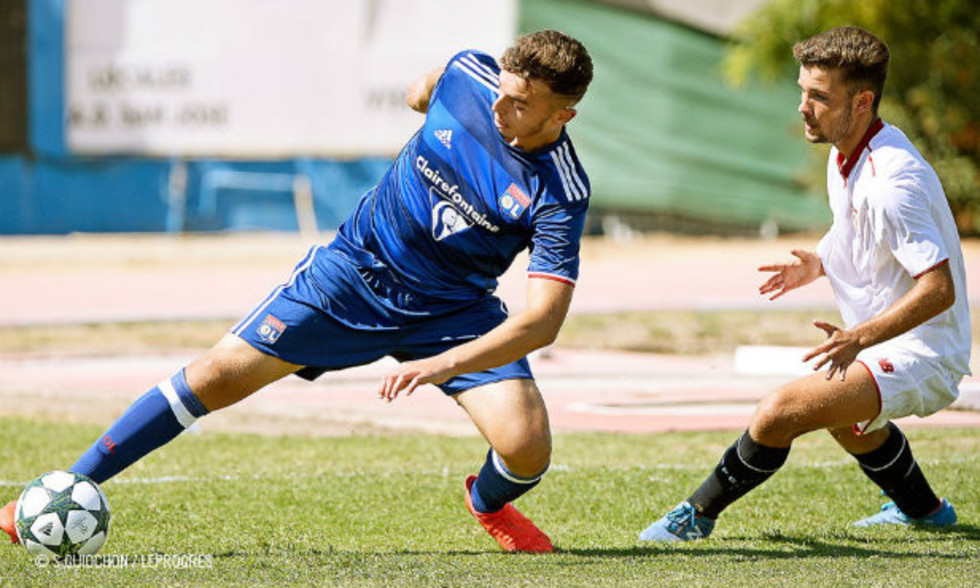 After winning midweek in the Youth League in Turin, Lyonnais continued their run of good form to win away at Saint-Etienne on Sunday.
There are weeks that count... and then there are weeks like the U19 squad have just experienced, a week that could prove a turning point in their season. After their huge performance in Turin on Wednesday night - which produced a win vital to their qualification hopes - Lyon just about took over the match away to Saint-Etienne on Sunday.
The score was the same: 0-1. This time, Amine Gouiri was there to score the decider in the 38th minute, with a header from a Paul Devarrewaere free-kick. The goal underlined Lyon's domination of Saint-Etienne, who were reduced to ten men after Kenny Rocha Santos was sent off in the tenth minute.
The score remained unchanged in the second half and OL held on for their seventh league victory of the season. This win saw Cris and Joël Fréchet's players move three points behind AS Monaco, who also won on Sunday, against US Colomiers (4-3). Next Sunday, the U19s go back to the hallowed ground of the Groupama OL Academy de Meyzieu to host OGC Nice (fifth) at 11:00.
---
Joël Fréchet (OL assistant coach): "We suffered a bit but got a good result. We were out for the win. This has been a great week. It's no mean feat to go and win in Turin and in Saint-Etienne in the space of a few days. We need to maintain this approach, namely to continue to believe in our collective ability and our attacking strength."
...

. TEAMSHEET .

At the Olllières de l'Etrat sports complex

U19 (Week 11, Group D): AS Saint-Etienne 0-1 OL (0-1)

Referee: B. Carey. Attendance: 350 approx.

Goals: Gouiri (38') for OL.

Yellow cards: Vieira (30') for OL.

OL: Racioppi - Brault-Guillard (cap.), Ngwabije, Vieira, Nouvel - Devarrewaere, Caqueret, Rafia (Almeida, 75')- Maolida (Ouazine, 60'), Gouiri, Kitala (Grossreider, 80'). Coach: Cris and J. Fréchet.

...