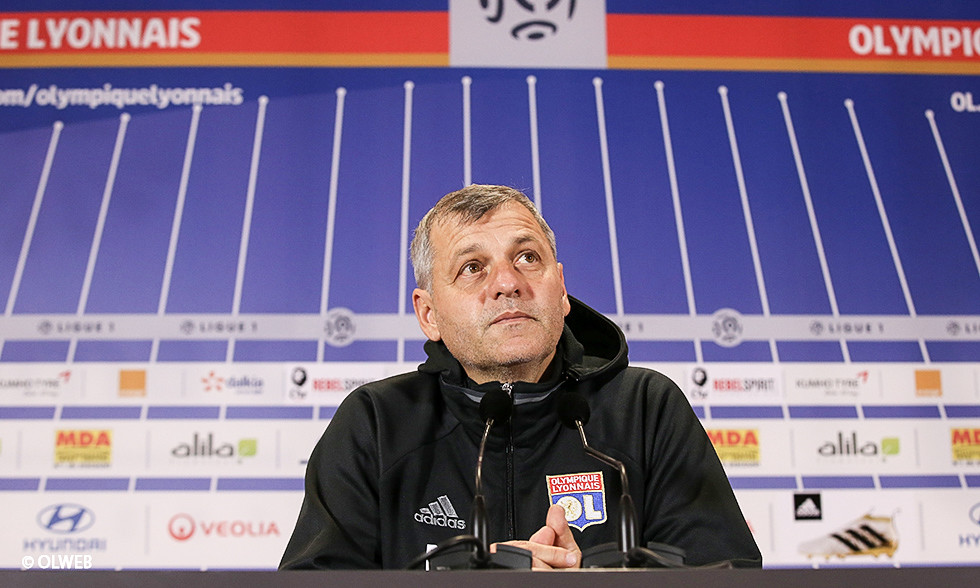 The OL coach appeared in a press conference on the eve of Sporting Club de Bastia's visit, reaffirming that his objective is to help his side build on the encouraging performances against Toulouse and Juventus.
Match after match
I haven't particularly noticed fatigue among the players even though this is our third match in a week. Evidently, the positive results have done us good. We enjoyed it but we need to get right back to business. A win against Bastia would cap a great week. I hope we learnt our lessons. The three points are very important. You don't emerge from a tough period overnight. On Saturday, we'll have to take the three points, and we'll see whether we can add some beautiful football and panache.
The new formation and competition in the squad
It's true that this system is yielding results for us. We can even switch from a 4-2-3-1 to a 4-3-3 as the two systems have a fair few similarities and can work for different situations in the game. We also had a lot of injury troubles in key positions at the beginning of the season. We're starting to get comfortable with several different formations and to establish a first-choice team, with players who are scoring points. Competition is part of life at a big club and the players have to accept that.
The line-up against Bastia
Just because Nabil was called up to the France squad, it doesn't mean I'll necessarily rest him this weekend. I always look to field the best possible team. But there are a few things to take into account with Nabil. After a couple of good matches against Saint-Etienne and Montpellier, he needs to catch his breath a bit, which is understandable after a long injury absence. As for Mouctar Diakhaby, we'll have to go slowly - it's never easy to start a 19-year-old in the centre of defence. We have to remember that Sam Umtiti also needed time. Against Juventus, I thought Mouctar was solid and that he turned in a promising performance against two international-level strikers. I think he can play a third match in a row. At right-back, we'll have to put our faith in youth. Jordy has stepped up when he has been called on in the past. He could take the place of Rafael.
Alex Lacazette's recent performances and his understanding with Fekir
It's the same as for Nabil Fekir. After a long absence, it's understandable that he have a little dip in form. Our last two matches haven't been easy for the forwards. They haven't had many balls played to feet. They have fought hard, especially in Toulouse. Alex even bagged a brace at the Stadium and, in Turin, in a match where we spent much more time defending than attacking, he was up against some very tough defenders. As for his partnership with Nabil, you have to understand that it's not always as easy as it's made out to be in the press or wherever. They have two different profiles: Nabil likes to make the difference one-on-one and isn't necessarily a master of the killer final pass. Alex's profile depends on the others. But at any rate, it's a huge asset to have these two players in our team as they are a real handful for opposition defenders.
Support from Alex Lacazette and the rest of the squad
I don't know whether my head was on the block before the match in Toulouse but, before that trip, we felt very united here at the club. That helped us to prepare well and right the ship. The two positive results against Toulouse and Juventus are the fruits of the hard work done by a squad who haven't given up and who haven't given in to panic. I don't know whether the players were hoping to save me but I do know that, above all, they wanted to show that they are nowhere near as hopeless as people have been saying they are.
Back with the fans at the Parc OL
We owe our fans a result at the Parc OL. We've just pulled in two good results away from home. Now we need to give our fans something to smile about at home. We're not at 100% yet and we know we have a long way to go to get back to where we belong. We'll need a series of positive results. That means getting a win against Bastia, a solid side who concede very few goals. To achieve our objectives, we'll have to have the same mentality we've had in our last two matches as well as really improving on a technical level.