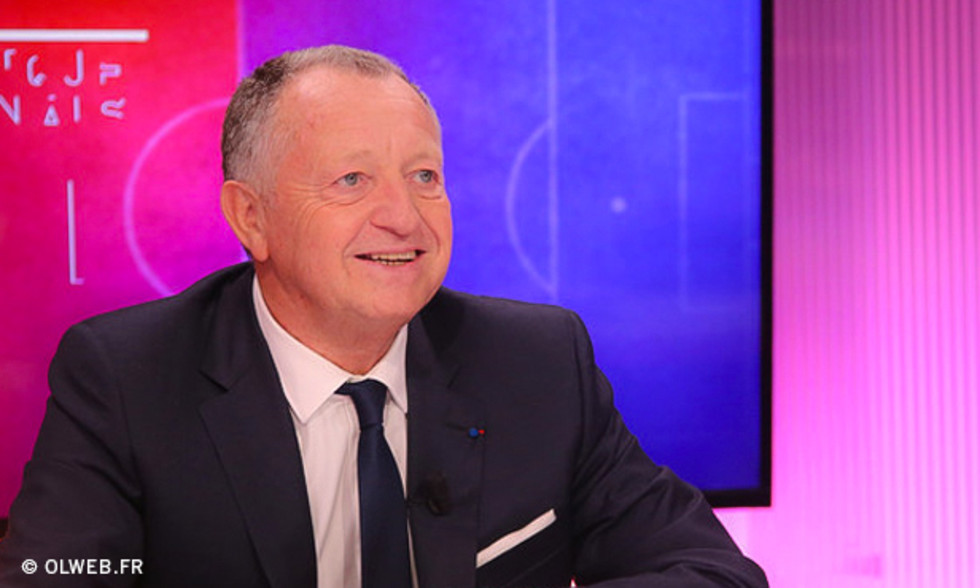 The Olympique Lyonnais president was the special guest on OLTV show Culture Club on Tuesday, discussing the road map for getting the club back among the top spots.
Early-season assessment
Along with Bruno, I'm, aiming to give the staff and the players a boost in terms of pride and confidence. We also want to give the fans something to smile about, as they have been behind us all the way. Bruno hasn't been spared by the critics, perhaps because he's a French coach… There are lots of things to work on. There has been a lapse in concentration, which played tricks on us and led to a lack of confidence. There is also a lack of maturity in terms of being unable to turn things around. You need to be able to take responsibility for your flaws and accept criticism. Still, we're in a better position than we were in last season - I remember that we were ten points behind Monaco at the end of January. So we mustn't panic - we just need to put our plan into place.
End-of-year goal
First of all, we mustn't be completely negative: we lead the league in terms of chances created - we're ahead of Paris - and we're also top in terms of possession. But we're still 13 points behind Nice and we need to start coming up with answers. It's worrying but it's no crisis. My objective is reaching the 31-point mark by the winter break. That would be better than last season's 26 points. To do that, we'll need an average of two points per match over our next nine matches.
We showed last season that we could turn things around, winning 11 of our last 15 matches. We're lucky enough to have a great atmosphere in the squad, so all we need to do is right the ship.
@JM_Aulas sur #CCOL, concernant la situation "inquiétante" dans laquelle se trouve actuellement l'@OL. #TeamOL pic.twitter.com/vo4YzD10fS

— OLTV✏ (@OLTV_officiel) 25 octobre 2016
Trips to Toulouse and Turin
We have two fantastic matches to play in the near future. First of all, there's Saturday's clash in Toulouse. It will be tough, as Toulouse are a very athletic side with nothing to lose in this match. We'll need to show plenty of desire and go all-out to get a result. Then we play away to Juventus. In the first match, we were unlucky and I'm convinced that we can still qualify despite the group's having two of Europe's best teams. So we'll play these two important matches and see if an improvement materialises.
@JM_Aulas : "Mon objectif est d'avoir 31 points d'ici la fin de l'année" #CCOL @OL #TeamOL

— OLTV✏ (@OLTV_officiel) 25 octobre 2016
Transfers
We had to replace Samuel Umtiti so we went after one of Argentina's brightest young stars with the conviction that Emmanuel Mammana could cover this departure at least in the middle-term. We also signed Nicolas Nkoulou, whom we had wished to bring to the club for four seasons and who was the target of several Italian clubs. Our transfer window was reasonable, even though it does take time for players to settle in. Even Juninho needed some time before he became a first-team regular at Lyon. My only regrets are not having managed to sign Hatem Ben Arfa and Roger Martinez. On the other hand, we never wanted to sign Mario Balotelli.
A final word to the fans
In football, there is one thing that counts and that's consistency of results. In terms of our structure and our infrastructure, we're among Europe's top eight clubs. We're used to playing in Europe as we have been doing so regularly for years now. For 20 years we've been using a strategy based on awareness and confidence, and it has allowed us to survive the vicissitudes of sporting results. I repeat: we're not in the upper reaches of the table but we can still make it to the knockout  rounds in the Champions League and figure among the league top side's come the end of the season. If we show a bit of patience, great things will start happening and I'm counting on the support of our fans to help us stay on track.
@JM_Aulas : "tout est rentré dans l'ordre, tout va bien entre Gérard Houllier et Bernard Lacombe" #CCOL @OL #TeamOL

— OLTV✏ (@OLTV_officiel) 25 octobre 2016