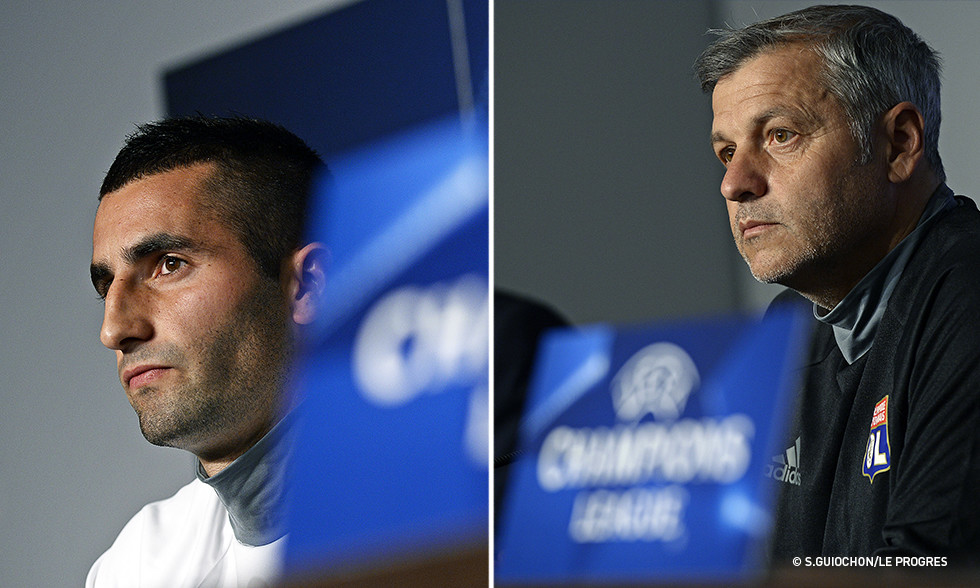 The OL captain and coach were both in attendance at the Parc OL press room to answer questions from numerous French and Italian journalists as they headed into the final training session before Tuesday's clash.
Maxime Gonalons
Tough current patch
"Necessarily, our confidence isn't overwhelming right now. We've been struggling a bit since the beginning of the season. We're trying to identify what it is that isn't working. We're up against a prestigious opponent so we'll try to put our current situation to one side and have a good match. We're a bit self-conscious at the moment and we've lost fluidity in our play. We've also lost the joy of playing and pulling together - two things that made us very strong at the end of last season. We need to assume our responsibilities on an individual level. We're talking a lot amongst ourselves. We should have just about all our players fit and available. We're ready, even though we would have preferred to be in better form."
Juventus are more than favourites in this match, but in football, there is always a 'but'. We need to hang onto that idea. We're capable of huge things.
Juventus at the Parc OL
"It will be a huge moment for us. It's exceptional. We'll be up against opponents who are clear leaders in Serie A, but we need to play our football. We need to remember the match against PSG at the Parc OL. People predicted that we would cop a hiding, and we need to use that win as a reference point. Juventus are more than favourites in this match, but in football, there is always a 'but'. We need to hang onto that idea. We're capable of huge things."
The return of Alexandre Lacazette
"he's a very important player. He's our leader in attack. He can make the difference at any moment. Unfortunately, he has been out of action for a while, but we'll do all we can to make sure he can be as effective as possible. That's also the case for Nabil Fekir."
---
Bruno Genesio
Delicate situation
"We're lucky to be playing against Juventus. It can be a benchmark match for us and boost our confidence… if we win. I pay no attention to anything I read about myself. We have to do all we can to help the team rediscover the values that made us strong just a little while ago. I'll make my pre-match speech with the same tactical and mental ingredients as motivation."

The Fekir-Lacazette duo
"The match won't boil down to how these two guys play together. Alexandre Lacazette is coming back after injury, so we expect him to be lacking rhythm and match fitness. I think the match will play out as a function of how we defend and our discipline when we don't have the ball. We need to ne secure at the back and play as a compact unit with aggression and solidarity. We're conscious of this."
Tactical changes?
"This is a non-issue as far as I'm concerned. The important thing is how you play within any framework, and which players you have available. There is nothing to say that we will stick with this system all season long. But at the moment it's the best one, as it's adapted to the qualities of our players."