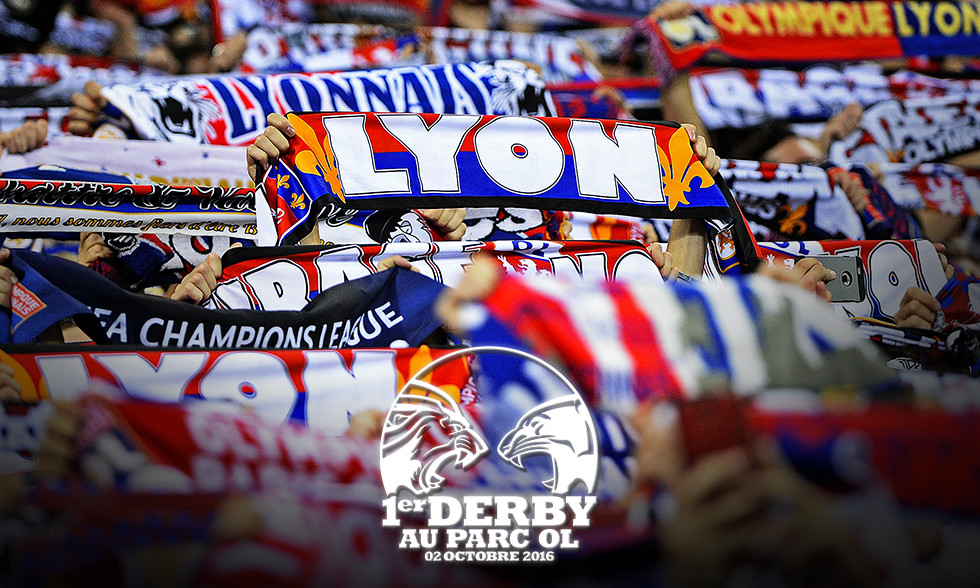 Make derby history
There has never been any doubt that, once the OL fans moved to their new home, that this would be the most anticipated fixture. A year almost to the day since the final derby at Gerland, the first battle for regional bragging rights between OL and Saint-Etienne at the Parc OL is almost upon us! Lets hope that the date of 2 October 2016 will resemble the historic 8 October 2015… Alexandre Lacazette broke Saint-Etienne with a hat-trick in an amazing atmosphere that day. The final derby at Gerland will remain etched in the annals of club history, and now it's up to OL to also put the first derby at the Parc OL into club folklore.
In need of points
History, rivalry, electricity… this derby is obviously a like no other, but that doesn't mean that anyone is forgetting about the three points up for grabs. OL sit in ninth place, trailing Nice by seven points, Monaco by six, Paris by three and Saint-Etienne by two. OL are lagging somewhat after a slow start to the L1 season that has seen them claim just four points from their last five matches (one win, one draw, three losses). OL are leaking points - a lot of points - despite consistently convincing performances.
Efficiency
"We're dominating matches but we're converting when we have the upper hand." The matches are ticking over and the reaction remains the same, unfortunately, for Bruno Genesio. After the loss in Seville, the OL coach once again pointed to his side's not taking their chances in front of the opponent's goal. It was the same in Dijon and in Lorient… OL just can't seem to get the goals flowing. Nineteen shots - nine of which were on target - at the Moustoir… in a 1-0 loss symptomatic of OL without their star striker.
Long injury lists
OL will be playing their seventh match of the season without Alexandre Lacazette. Absent since the 45th minute against Dijon, the six-goal striker is sorely missed. He will only be back after the international break, meaning he will miss the derby. Maxime Gonalons and Mapou Yanga-Mbiwa (both suspended), Maxwel Cornet, Clément Grenier, Rafael and Christophe Jallet (all injured) won't be there either, but their local rivals have also been hit by injuries.
.@CorentinTolisso "Ils ont beaucoup de blessés mais ils restent conquérants, il ne faut pas les sous-estimer" #OLASSE

— Olympique Lyonnais (@OL) 30 septembre 2016
Last stage of the first marathon
A dangerous trip to Marseille, a clash with Bordeaux and two Champions League fixtures, including one against three-time Europa League champions Sevilla, and then a derby… OL have had their hands full. Between 10 September and 2 October, they will have played seven matches - that's almost one every three days for more a little over three weeks. A crazy rhythm that will come to a halt on Sunday night and make way for the international break. Then OL will undertake their next marathon, taking on leaders Nice and European giants Juventus in a Champions League double header…
...

. OL-ASSE: A SPECIAL DAY ON OLTV .

The glamour clash between Olympique Lyonnais and AS Saint-Etienne can be followed like nowhere else on OLTV. From 09:00, this special day kicks off, with news updates on the hour up to 17:00

From 19:15, the match team of journalists Basile Vanetzel and Guillaume Gache and consultants Jérémy Berthod and Arnaud Rivenet will take over with a 90-minute pre-match show with plenty of special guests (Le Guen, La Fouine,...) and the anouncement of the OL line-up - exclusive to OLTV.

The post-match show will feature all the reactions from the Olympique Lyonnais players and staff and offer a comprehensive match analysis from experts Arnaud Rivenet and Jérémy Berthod.

Ho to watch the match

Live: from 20:45 on Canal+.
Replay: from midnight on OLTV.

...