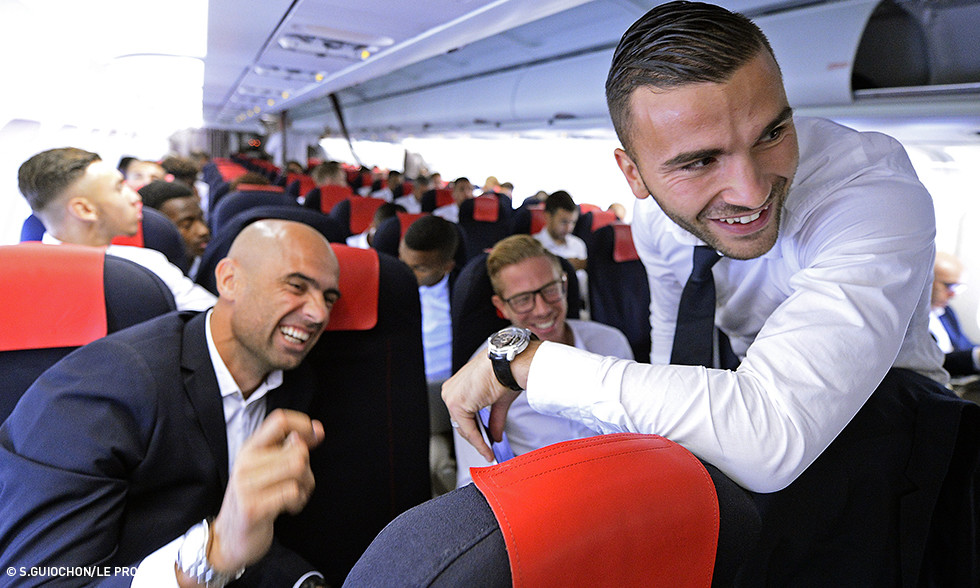 After a two-hour flight, the OL contingent touched down in Andalusia just before midday. The senior squad and the U19s then settled into their hotels ahead of planned late-afternoon training sessions.
It was a veritable battalion of Olympique Lyonnais players and staff who landed in Andalusia, with the senior team and the U19s - as well as their respective coaching and ancillary staff - all making the trip on Monday and arriving around midday at the airport in the north of the city of Sevilla. They had hit the road four hours earlier, leaving in a bus from the Parc OL, their preferred departure point since the start of the season.
Dressed in their Champions League suits, the OL players arrived at Saint-Exupéry airport at 09:00, checking in and passing through security before boarding the plane an hour later and enjoying a two-hour flight with music, movies or a bit of shut-eye.
After crossing the south of France and the north of Spain, the OL contingent got through some grey weather and found summery conditions waiting for the min Sevilla. A bright shining sun and 30-degree temperatures welcomed Maxime Gonalons and his teammates - as well as U19 captain Zachary Brault-Guillard and his - as they headed off to their respective hotels, with the senior side's lodgings just 15-minute bus ride away. A meal at 13:00, then a siesta, and then all concerned head off for training, scheduled for 17:00.
...

. THE SENIOR SQUAD.

'Keepers: Gorgelin, Lopes, Mocio.

Defenders: Diakhaby, Gaspar, Mammana, Morel, Nkoulou, Rybus, Yanga-Mbiwa.

Midfielders: Gonalons, Darder, Ferri, Kemen, Tolisso, Tousart.

Forwards: Cornet, Fekir, Ghezzal, Valbuena, Kalulu.

...
...

. THE U19 SQUAD.

'Keepers: Garcia, Racioppi.

Defenders: Brault-Guillard, Gahrouri, Nouvel, Roselli, Salte, Vieira.

Midfielders: Aouar, Caqueret, Cognat, Devarrewaere, Martins Pereira, Rafia.

Forwards: Ankoue, Gouiri, Kitala, Maolida, N'Dicka, Oualembo.

...