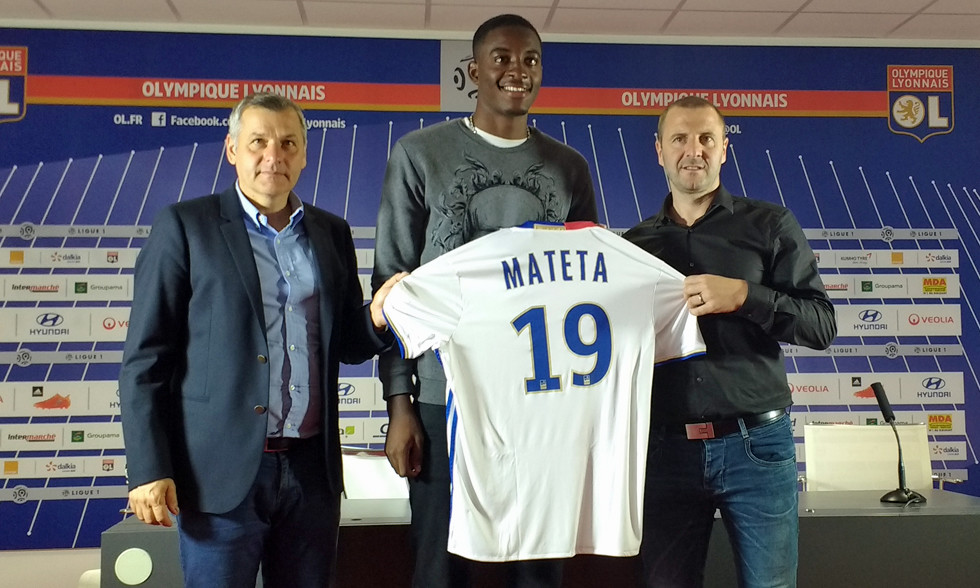 Four days after his arrival at Lyon, the 19-year-old new recruit was officially presented to the press on Monday morning in Décines alongside Bruno Genesio, Jean-Michel Aulas and Bernard Lacombe.
Jean-Philippe Mateta
"They sent me a message after the Zagreb match. The president welcomed me and my dad in person. I didn't believe it at first. It really touched me. I'm very happy to be here. I've been impressed by everything. I can't wait to play at the Parc OL, it's a dream. I started football at eight years of age in Sevran, where I played all my youth football. I played for Drancy and then Châteauroux, where I had two full seasons. I watched a lot of Zlatan's matches as he is also a big guy and he keeps the ball well."
Jean-Michel Aulas
"We've been following him since the beginning of the season. We tried to make sure things went as quickly as possible. I called Michel Denisot after Lacazette re-injured himself. He has signed for five years and brings youthful exuberance and a huge frame. He has had a slightly unusual path, as he was never at a youth academy. But his rise has been fast. The transfer is worth €2m plus €3m in incentives. He will wear the number 19. We tried to sign Roger Martinez, but perhaps our efforts came too late."
Bruno Genesio
"I'm very happy to officially welcome him. He has the kind of profile that we didn't have before, with a very athletic physique. It's a great investment for the future. He will join the rest of the squad today. I want to take my time with him. He should feel comfortable in the squad. I will talk about it with him but I don't want to put him under any pressure. I have a lot of confidence in him. He has come here with a lot of humility and a lot of enthusiasm."
...

. OTHER MATTERS.

Emmanuel Adebayor

Jean-Michel Aulas: "We activated a lot of leads after Lacazette's injury, and this was one we had thought about before. Florian Maurice hadn't heard from him in two days. He arrived just after Mateta's signature. We had him come here so we could talk and then Bruno did his job. After thinking it through, he decided not to pursue it."

Bruno Genesio: "Emmanuel is free to say what he wishes to say. I meant him no disrespect. I would have preferred our talk to remain confidential. I wanted to know what he is like as a person; it's important to know how someone functions. I work in perfect harmony with Florian Maurice; we're very close."


La suspension de Maxime Gonalons

Jean-Michel Aulas: "We decided to appeal Maxime Gonalons' suspension. The penalty was too severe. Malcom made the most of it, you can see that in the video. Once the red card came out, he just got right up. There were no lasting effects. Max didn't intend to hurt him."

Le bus caillassé

Jean-Michel Aulas: "The bus was attacked in a savage manner. It was shocking. Not everything was done to ensure our security. We drove extremely slowly on the boulevard in front of the stadium and the bars. It's a shame when all precautions are not taken."

...