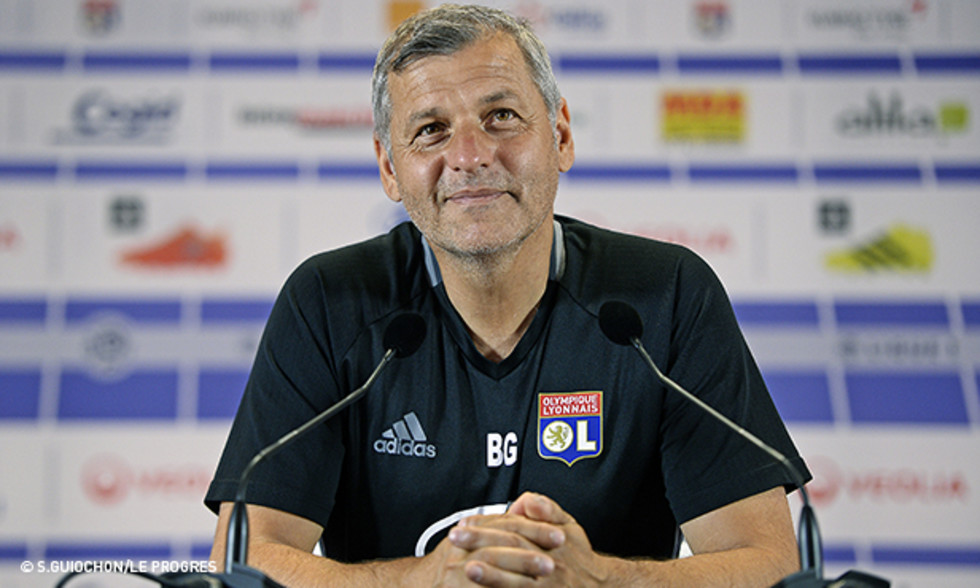 Two days out from the clash with OM, the Olympique Lyonnais boss gave the lowdown on everything OL.
Bruno, can you first of all give us the run down on injuries and fitness in the squad?
Mathieu Valbuena won't be making the trip to the Vélodrome; he's not match fit yet. Nabil (Fekir) is also out of action. He had a check up on Monday and I'm pretty confident that he'll be part of the squad for Wednesday's clash with Montpellier. Maxime Gonalons will also be absent, as he has been suspended for four matches. We won't be appealing as he already had two yellow cards. His lengthy absence is annoying, as he will miss the derby, just like Alex Lacazette. But we saw on Wednesday that we have the resources to bridge the gaps. Lucas Tousart, who has progressed in leaps and bounds and who had an excellent Euro, will deputise for Maxime on Sunday. As for Corentin Tolisso, I'll play him as playmaker once again. When you see his performances, you can understand why we absolutely wanted to keep him here. He has the potential to become a very high-level player. He has the physique and the intelligence. He can improve in terms of managing his efforts and becoming more efficient, especially in terms of mid-range shooting.
Could we see Jean-Philippe Mateta this Sunday against Marseille ?
He's in the 20-man squad for the match. Still, he has just arrived and trained separately on Friday. He did 25 minutes' work in front of goal. He can use both feet and he's very nimble. He loves scoring goals but we have to give him time. In any case I had a good chat with him yesterday and he made a very good impression for a young player. He has come here full of ambition and very fresh. His profile is very interesting for us - he's different from the other players we have. He's a player for the future and so we have to be patient with him. He has a lot to learn before he can make a place for himself at the highest level. We're happy to have him."
Could Emmanuel Adebayor join Lyon in the coming hours?
Indeed he could. He has come to Lyon and I will meet with him after this press conference. I have a lot of questions for him, especially concerning his time at Crystal Palace. I want to know what kind of form he is in and what would motivate him to join us.
He's not someone one would necessarily imagine signing for Olympique Lyonnais…
The transfer window is shut and so we're talking about players who are out of contract for various reasons. You could always find something bad to say about our choices but the final decision will betaken with the team's best interests at heart. There is always an element of doubt in a transfer. After our meeting, we'll see whether he can go on to have a medical.
How are the spirits in your team ahead of this trip to Marseille ?
We want to follow on from our great match against Dinamo Zagreb. We also want to fine-tune certain details so that we can have les trouble in defence and play with more assurance. I was pleasantly surprised by the players' capacity to adapt to a new system in just 48 hours. It shows that we have a smart squad who can achieve a lot when team spirit is strong. Some people tried to trivialise our performance, saying that it was meaningless because it came against one of the worst sides ever in the Champions League. You can't always explain everything in football. Against Zagreb, we could have conceded two goals, and at the same time, we could also easily have won in Dijon. The main thing is that we started our Champions League campaign well and righted the ship after two big disappointments.
Shat did you make of Nicolas Nkoulou's performance?
I'm satisfied with his performance from Wednesday. He can evidently do better but he's a player who arrived at the club with a truncated pre-season. We've seen in the past that this kind of thing can make it tough for a new player to adapt. That's why we need to support him.
After Dinamo Zagreb, it's time for another exciting match, in the form of Olympique de Marseille…
We need to be concentrated on our game and pay no attention to the atmosphere. We have enough experience now to approach this match with confidence and calmness. It will be a fiery match but one that's very interesting to play.
What do you make of OM at the moment?
They had a pretty agitated off-season but I think they handled it well. At Nice last week, they certainly didn't deserve to lose. I don't think OM are where they belong on the table. I'm expecting a match on a Champions League level and we'll need to step up to the plate in order to impose our game.
And you'll be facing off against a certain Bafé Gomis…
He's a player who scored at least 15 goals a season when he was with us. He's a great guy. I like him a lot as a person and as a striker, he's in good form right now even though he didn't play much last season in England.