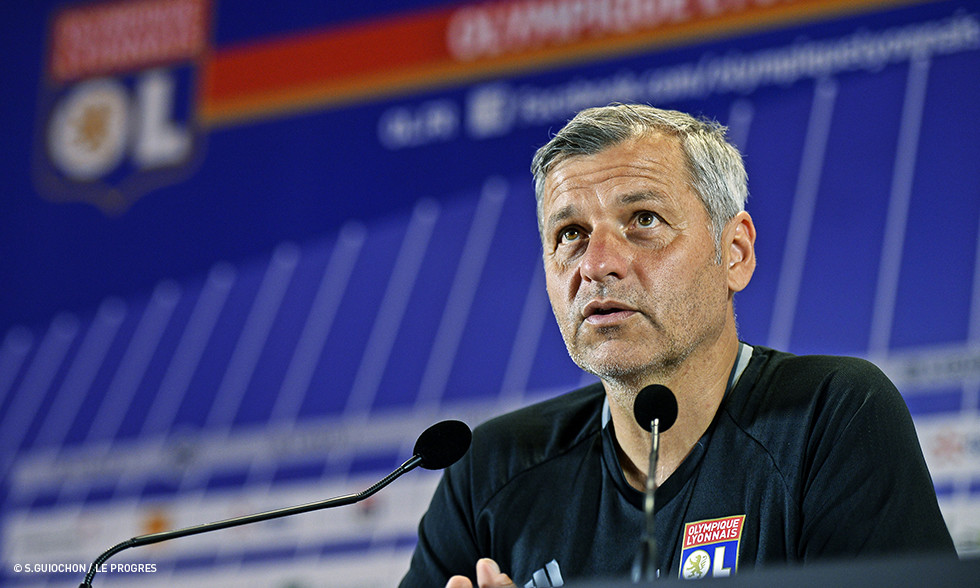 The OL coach spoke to the media 48 hours out from the Week 4 clash with Bordeaux.
Injuries
"Fekir is following his recovery programme. He is on schedule. Valbuena is sidelined, just like Grenier and Jallet. Mammana and Kemen are suspended following red cards in the CFA. Clément has a small fissure at the top of his tibia and he needs to rest for around ten days. Valbuena's absence is probable but not certain. We'll see on the day. He resumed running this morning. Jallet has a concern with his back. He has been out of action for a month. We'll see how it progresses. Lacazette is doing better and feels good physically. He is on schedule. If I can afford to take him off early, then I will, but he will be starting. There is a slight uncertainty concerning Cornet - he has a slight hamstring twinge but he should be good to go."
The international break
"We take stock each week, but what is said will remain among us. We take care of problems internally and not by expressing ourselves in the papers. We have done the necessary to deal with the problems we have had, especially in our defence. I'm expecting something very different against Bordeaux. We need to bounce back. You always have to ask yourself the tough questions."
The Champions League
"We have an important match on Saturday. A win would put us in the best position for the start of our Champions League campaign. We need to maintain the confidence that we've been enjoying for a while now. A rough patch in Dijon shouldn't destroy our confidence."
Rachid Ghezzal to start?
"I don't really much choice. I think he will start on Saturday but that's not a default choice. He has worked hard but he hasn't played yet this season. I've had several talks with him. I told him what I think. He knows that I have faith in him. The only uncertainty is whether he can play a full 90 minutes. Will the fans give him a hard time? I haven't thought about that. I hope the fans treat Rachid well. There are some decision that are very hard to make. He has very strong ties with the club. We need to work together."
Solutions to cover attacking absentees
"Play Rybus higher up the pitch? That's something I had thought about. I spoke to him about it… This is also a chance for the youngsters to step up. Sometimes, you're pleasantly surprised. I have faith in my squad and the youngsters I have brought into it. I have some trepidation but it's also in comments like these that you see a team's solidarity. I would prefer to have a full-strength squad at my disposal but part of what makes this job interesting is having to find solutions."
News on Nabil Fekir
"Nabil is a great player. He just needs to take care of his physical concerns. He was playing with a niggling injury. He will be back on the pitch in a fortnight and then we'll see the Nabil we once knew. I have very big plans for him. There is nothing to be worried about. The meniscus problem weighed on his mind but he now he feels better, more relaxed."
Corentin Tolisso with France's U21s
"It was interesting to see him playing as a number ten. He played the role extremely well. He was good with his back to goal. We might even play him like that with OL in certain matches, why not? He impressed me."