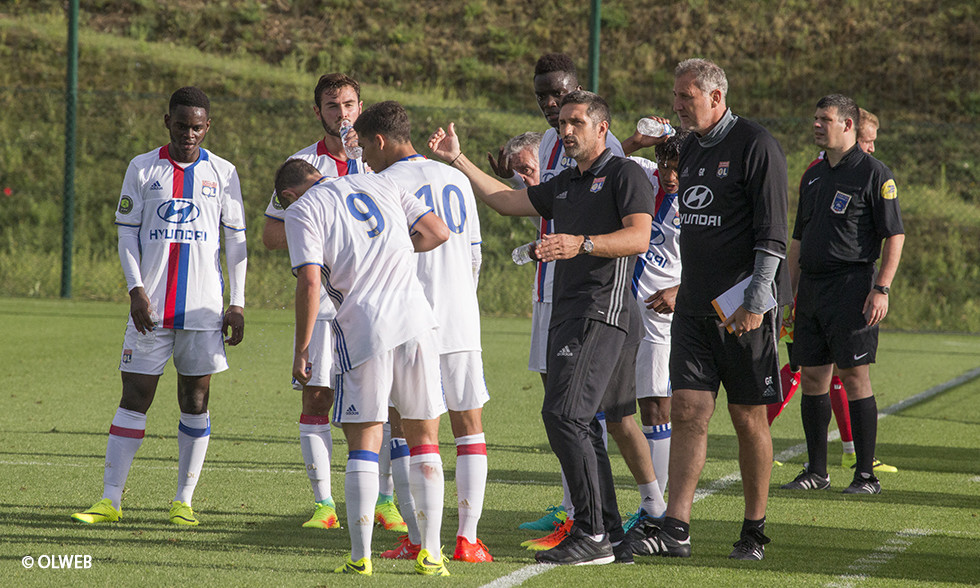 The OL reserves play host to GF38 on Saturday at 18:00 in Group C's Week 4.
Beaten 3-0 in Villefranche last weekend, OL's reserve side are having a tough start to the season. In three matches, Maxence Flachez and Gilles Rousset's players have collected just two points which, given the quality in  the squad, is a under-performance. Currently ninth on the table, the reserves need to get a good result against Grenoble, who are still undefeated so far this season. Their 1-0 win over Montceau-les-Mines in their last outing took their points tally to seven and they now sit fourth in Group C.
Gilles Rousset is expecting a tough match against Grenoble. "They're promotion candidates; they're been pushing hard for four seasons and for four seasons in a row they have come second." The reserves' assistant coach will have to cobble together a team with the players available to him. "Despite the fact that the squad has been reinforced with players from the senior squad, we have a lot of guys who have gone on international duty. We'll have to make do with a bunch of players who aren't used to playing together, so it will be a bit different. But we're still ambitious concerning this match. The objective will be to turn in a good performance and to be as rigorous in defence as possible."
Without certain key players, such as Lucas Tousart, Christoper Martins Pereira, Timothée Cognat and Houssem Aouar, all of whom have been called up to their respective national teams, the OL coaches can count on the bolstering presence of Christophe Jallet, Mathieu Gorgelin, and Emmanuel Mammana, who will be looking for some game time against Grenoble on Saturday at 18:00.
The clash between OL and GF38 will be available in its entirety as of Monday, 5 September from 20:15 on OLTV, with commentary from Gabriel Vacher and Robert Valette.
...

. THE SQUAD .

'Keepers: Gorgelin, Lebongo.

Defenders: Diakhaby, Gaspar, Jallet, G. Kalulu, Mammana, Mboumbouni.

Midfielders: Caqueret, D'Arpino, Kemen, Martelat.

Forwards: Dzabana, Y. Fekir, Gouiri, A. Kalulu, Perrin.

...