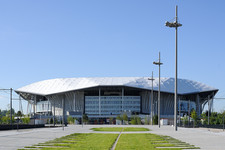 More than a big stadium...

A new generation stadium open 365 days a year
Comfort / Welcome / Visibility
Outguess the spectators' expectations and offer them optimal show conditions.
Security
Garantee every supporter a total serenity to retain only the best.
Exchange / Conviviality
Make the stadium a life place and a meeting place for the public as well as for the business.
Interactivity / Modernism
Enjoy the technological evolutions to revolution the consumption.
New spectators
Enlarge the consumers target through a ideal geographical position and an optimized accessibility.
Shows
Make the stadium a permanent show place: sport, concerts…
Multi-fonctionnality
Offer a place that lives 365 days a year: leisure center, companies welcoming...
The Grand Stade in numbers
A Stadium 2.0
The Olympique Lyonnais stadium offers a unique experience to its spectators in proposing connected services which revolutionize the "stadium experience".
Services 2.0 last generation

Orders at you seat
Slow motion multi-cameras
Gaming & social networks
Dematerialize ticketing
Cashless payments
Dynamic boarding of the sponsors
A 5 stars programing
A big shows dedicated space
With a rich and variated programing the yearlong, the Olympique Lyonnais stadium will become a must as a popular rally place in France and in Europe.
Trainings, concerts & big cultural events
Concerts, sounds and lights shows...
Example : inauguration party for the Fête des Lumières
In the heart of the sport events
Euro 2016: welcome 6 matches which count a

½

final
Euro 2020 : only French stadium in the short-list
Champions League & Europa League : eligible for the finales